M A I N N E W S
15 ex-militants in fray
Aditi Tandon
Tribune News Service,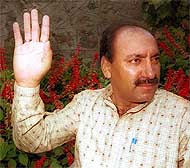 Former Ikhwan commander Owsman Majeed contesting from Bandipora for the Awami League.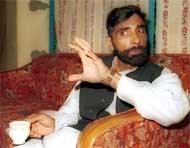 Javed Hussain Shah from the Bandipora constituency for the NC.
— Tribune photos Amin War
Bandipora, (Baramulla), September 14
This time around, elections to the Jammu and Kashmir Assembly are going to be different in more than just many ways. Where on the one hand, the electoral process this time is being tipped as more violent than the last one in 1996 when 75 candidates had been killed, on the other it is also witnessing a record participation of former militants.
For the first time, about 15 renegades, who have, in the past, been associated with active militant outfits in the valley, are contesting from key constituencies in Baramula, Kupwara, Srinagar, Budgam and Anantnag. Wherein the past most of the renegades had been left to politically fend for themselves, this time the ruling National Conference and other political parties are even fielding them.
As the Tribune toured the region to find if there was any healthy wave in favour of the former militants, it found that the support they drew was marginal. A survey of the area revealed that the highest number of renegades were contesting in the Bandipora Assembly constituency of Baramula district. Here out of six candidates in the fray, five have roots in militancy. Interestingly, the ruling NC has fielded a former militant of Al Jehad in Bandipora constituency. Javed Hussain Shah, NC's candidate from Bandipora, is contesting against four former militants. Appointed a Member, Legislative Council in 1997, Javed Hussain has replaced Mohd Naz, who had won from Bandipora in the 1996 Assembly polls.
Except Mr Habibullah, who is contesting on the Congress ticket from Bandipora, the other five candidates have been associated with terrorist outfits in the past. Abdul Majid Rahi, contesting as an independent from Bandipora, was once district commander for Al Barq. Mohammad Amin, now fighting on the ticket of Kashmir Resolution Movement (KRM), had connections with the Hizbul Mujahideen. Mohd Abdullah Wani of the People's. Democratic Party (PDP) was once district commander for Hizbul Mujahideen in Budgam district. Usman Majid, contesting on the ticket of Awami League, a party founded by Kukka Parray, the most popular leader of the Ikhwani (surrendered militant) movement, had been associated with Students' Liberation Front.
As the ruling party and independent candidates from Bandipora get busy chalking out plans, voters are in a state of utter dejection. They openly say that they will not cast the ballot unless the Amy pulls them out. Mushtaq Khan, a tonga plier, said no candidate in the area was worthy of being trusted. Wasim Ali, Ahmad Kar and Muzirama voiced similar opinions. People did not mind saying "It is gun versus gun in Bandipora". Even as the 70,000 voters of Bandipora remain disinterested, it is to be seen if September 16 inspires them in any way.
As of now, they don't want to poll for "gunmen", as they address most contesting candidates.
The following are the other renegades in the poll fray: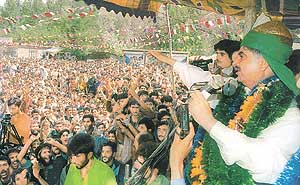 Awami League Chairman Kukka Parray addresses an election rally at Sumbal Sonawari in Bandipora district, Baramula.
— Tribune photo Amin War
Kukka Parray: Former MLA from Sonawari Assembly segment of Baramulla district is again contesting from Sonawari this time. During the 1996 Assembly polls he defeated his nearest rival, NC's Mohd Akbar Lone by a margin of 726 votes. This time too he is pitted against Lone. A folk singer turned-militant-turned-politician; Kukka Parray now has his own party called the Awami League. He had earlier founded the Ikhwan-ul-Muslimoon, an outfit of surrendered militants, who helped the Army contain terrorism in the Valley. Strangely, however, he commands commendable respect in his Assembly constituency.
Papa Kishtwari: This surrendered militant leader wields influence in Pampore area of Pulwama district. Although he has himself not been contesting elections, he has been supporting his wife Hafiza Begum. Hafiza is contesting from two Assembly constituencies: Pampore (Pulwama district) and Sonwar (Srinagar district). In fact, she was the first woman candidate to file her nomination this time.
Abdul Ghani Nasim: MLA from Khan Sahab in Budgam is contesting on NC's ticket this time. He has been associated with the Al Barq and the JKLF earlier.
Liaqat Ali: A former HM militant, who surrendered later, will be contesting from Anantnag.
Imran Rahi: A former supreme commander of the HM is contesting as an independent from Lolab segment of Kupwara.