India, China, Russia towards new understanding
Ask USA to adhere to UN resolutions on Iraq
Tribune News Service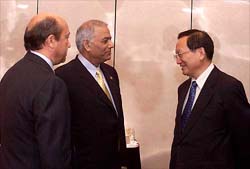 External Affairs Minister Yashwant Sinha with his Russian and Chinese counterparts Igor Ivanov (left) and Tang Jiaxuan at a meeting in New York on Saturday. — PTI photo
New York, September 15
In an event having far-reaching import, the Foreign Ministers of India, the Russian Federation and China met here for nearly two hours to discuss the emerging global scenario and Washington's threat of carrying out unilateral attacks on Iraq.
The Foreign Ministers of the three countries are slowly laying the foundations for developing and strengthening mutual understanding on various issues. Whether it will take the form of an axis will depend on various developments on the global chessboard. This idea had been first mooted by a senior Russian dignitary when he visited New Delhi about two years ago. It is clear that this mutual understanding is now beginning to take shape.
India, the Russian Federation and China have expressed serious reservations about the USA and Britain announcing their resolve to carry out attacks on Iraq and see the back of its President, Mr Saddam Hussein. The three countries have cautioned US President George Bush against such an action and its serious repercussions not only for West Asia but also the rest of the world.
Mr Yashwant Sinha, Mr Igor Ivanov and Mr Tang Jiaxuan were emphatic that the world's only super power should adhere to the resolutions of the United Nations on Iraq so that weapon inspectors could return to that country and the sanctions against it could be removed. Mr Bush, in his speech to the United Nations last week, had focussed entirely on Iraq and Mr Saddam Hussein having links with terrorist outfits like Al-Qaida amidst the widespread belief that Mr Hussein was manufacturing weapons of mass destruction.
The United Nations, on its part, had cautioned the USA against taking any unilateral action against Iraq, emphasising that Washington must have the concurrence of the UN Security Council before embarking on any such adventure.
The three leaders have taken serious note of various forms of terrorism and discussed the international fight against the menace with the USA in the vanguard. They condemned all acts of terrorism which hampered peace and progress of humankind.
"We had agreed to hold this kind of meeting in New York long ago. We will be meeting in the future also," Mr Ivanov remarked.
"We exchanged views on current subjects in the UN General Assembly. We have common positions on principal matters in the first place related to strengthening the UN's role and formation of a world order based on the superiority of the UN Charter and international law", he said.
Diplomatic observers felt the very fact that the representatives of the three countries got together on the sidelines of the UN General Assembly session was a significant event in itself.