Vajpayee rejects LoC as international border
Hari Jaisingh
New York, September 16
Prime Minister Atal Behari Vajpayee has rejected converting the Line of Control as the international border with Pakistan and maintained that the world community must move against countries encouraging all forms of terrorism, including State-sponsorship of terrorism.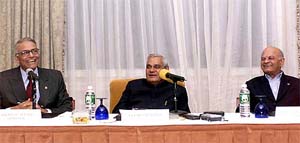 Prime Minister Atal Behari Vajpayee addresses a Press conference in New York on Sunday. (L to R) External Affairs Minister Yashwant Sinha and National Security Advisor Brijesh Mishra are also seen in the picture. — PTI photo
Mr Vajpayee sought to lay at rest the talk of pressure being mounted by the USA that India and Pakistan should resolve the Kashmir tangle by accepting the LoC as the international border.
He made it clear that this matter did not come up for discussion with US President George W. Bush or at any other forum. "There is no question of having any discussion on the LoC and no such proposal was ever made," Mr Vajpayee said.
"The 190-member United Nations and the international community must initiate action swiftly against those training, harbouring and financing terrorism," he said at a Press conference here last evening at the end of his visit to New York.
While acknowledging that India had received strong support in its fight against terrorism from US President George W. Bush and others, he said New Delhi would have to depend on its own strength and resolution to tackle this menace.
Mr Vajpayee appreciated the widespread support for going through with the democratic process in Jammu and Kashmir despite Pakistan's machinations to disrupt the Assembly elections through cross-border terrorism.
Significantly, the Prime Minister pointed out that even as Mr Bush strongly told Pakistan President Gen Pervez Musharraf not to disrupt the Assembly elections in J and K and stop cross-border terrorism, he did not focus on resuming the Indo-Pak dialogue for the first time.
He said Indo-US relations had moved away from being Pakistan-centric to a multi-faceted one with emphasis on having an understanding of regional and global issues.
During his interface with a wide spectrum of leaders from various countries on the sidelines of the United Nations General Assembly session, Mr Vajpayee remained steadfast in impressing upon them that the fight against terrorism should be continued in a sustained and relentless manner.
He observed that "every single leader condemned terrorist attacks in J and K and elsewhere in India. Naturally, I discussed with all these leaders the imperative need for democracies to cooperate and work in tandem in rooting out terrorism effectively and without discrimination."
The Prime Minister was categoric that the issue of disappearance of Al-Quaida terrorists must be addressed urgently in the wake of the information that they are regrouping. In this context, he warned that terrorism could show its ugly face any time, anywhere and in any form.
He pointed out that Indo-US relations now focussed on a wide range of issues like trade, science and technology, defence and the use of nuclear technology for peaceful purposes.
During his talks with Mr Bush, it was agreed that all the impediments should be removed in getting the strategic dialogue started between the two countries. The issue of import of dual-use technology for military and civilian purposes also came up for discussion.
Earlier, in a statement the Prime Minister said he met a group of US Senators and Congressmen and found that there was broad political support both in the Senate and House of Representatives for strong Indo-US relations.
Mr Vajpayee was candid in telling the Senators and Congressmen that India would have to choose its own option if the international community failed to pressurise Pakistan in stopping cross-border terrorism. He said India joined the international coalition against terrorism in the conviction that only a global and comprehensive effort could help eliminate this problem.
"While the coalition has made considerable headway in Afghanistan, a lot more needs to be done further East on Pakistan's border with India," he said.
Mr Vajpayee put the blame at Pakistan's door entirely for continued tension in South Asia because of its failure to implement the pledges made by General Musharraf. He maintained that India attached greatest importance to free, fair and peaceful elections in J and K and was taking every possible step in this direction despite terrorist attacks orchestrated by Pakistan's Inter-Services Intelligence.
A delegation of US Jewish organisations also met Mr Vajpayee. The Jewish community in the USA has been strongly supportive of India in the US Congress and outside on terrorism and other important issues.
On Iraq, Mr Vajpayee said India enjoyed historical relationship with that country and "our vital strategists in the Gulf region". At the same time, India understands the international community's desire to see the relevant UN resolutions on weapons of mass destruction complied with fully. The President of the USA has stated that his country will take the matter of further action in regard to Iraq to the UN Security Council. "We believe that the sanctions against Iraq should be lifted in tandem with full and effective compliance by Iraq with the relevant UN Security Council resolutions."
Mr Vajpayee returns home tomorrow after a technical halt in Zurich.