CHILLOUT ZONE
Stop but don't stare...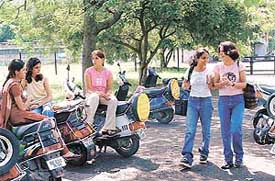 Dense brown clouds' translucent wall momentarily blinds the on-lookers as the radial tyres, rolling wildly against the metaled road, come to a screeching halt. As the dust settles down, two reed-thin damsels in midriff revealing tank tops over hip-huggers switch off the stereo and slam shut the front doors after stepping out of the jaunty jalopy. Waving enthusiastically, they join in their pals sitting on cheerful plastic chairs.
Yes, CITCO's kiosk — Stop `n' Stare — bang opposite the Government Arts College in Sector 10 is the latest scream among city's teenyboppers.
In days that are no more, before the canteen came into being, the narrow passage dotted by Pine trees on either sides was frequented only by lonely. Gently swinging the bamboo canes, the retired-but-not-tired would trot on the trampled grass running along the road, undisturbed.
That was months ago, before CITCO decided to open up its canteen. As word-of-mouth played the trick, so many youngsters started rushing in. Little wonder, bhangra music's thumping beat, over roaring engine's din, now-a-days reaches you even before the polished cars follow each other in quick succession.
"Clutching tightly the steering wheel, guys in sleeveless biceps revealing t-shirts over casual trousers shift the gear into neutral and slam the brakes only if the crowd, sitting under the rejuvenating shade of the fiber roof, is good," says regular visitor Neeraj Kohli. "Otherwise, they accelerate, only to return after a few minutes".
Alluring crowd is not the only reason behind the joint's popularity. "You can get what you want after pulling out a nominal sum from your leather wallet," says the manager. "If you wish to savour sumptuous patty, same as served in Mountview hotel, just take out Rs 6. Cold drink you can buy at printed price, along with potato chips and other goodies".
Another things, all the ruckus keeps the elders away. So, if you have nowhere to hide from the probing eyes of your near-but-not-so-dear relatives, go to Sector 10. Daddy will never think of looking for you in the vicinity of Arts College, you can be sure of it.