Dancers mesmerise at NZCC festival
Asha Ahuja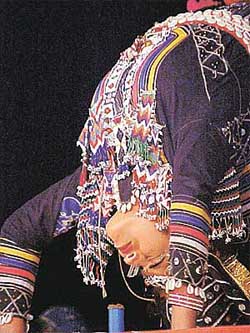 A Kabalia dancer from Rajasthan lifts a razor with her eyelashes during a performance in Ludhiana on Wednesday. — IV
Ludhiana, September 18
Dancers from different states, performing at the Crafts, Cultural and Food Festival being organised at the grounds of Government College for Women, have simply wowed residents of the city with their exotic dances. And have compelled audience to say 'encore, encore'.
According to Mr R.T. Jindal, Director NZCC, some troupes, like the one performing ' Brij Barsana Holi' dance, have impressed the audience so much that they have been asked to prolong their stay in the city. And rightfully so. For the Ludhianvis have not had enough of this dance. Barsana was Radha's native village and this folk dance was performed by Radha and 'gopis'.
Similarly, girls of the Kabalia tribe from Rajasthan, in their black outfits strewn with big chunky mirrors and cawri shells, are casting a spell on the audience. As the four girls perform 'nagin' dance, their supple body movements simply mesmerise the audience.
The girls place blades, coins and needles on the ground and with agility bend backwards and lift these objects with their eyelashes while male members of the troupe play divine music on their instruments.
Another dance which the audience is liking is 'sidhi damat' dance. The dance has an interesting tale behind its origin. Some people, from South Africa, came to India about 700 years ago. Though they settled in India, but kept links with their old traditions. Hence they pay obeisance to deity Gaur Baba in their own style.
Dressed in feathers, their dance movements are strong, fast and vibrant on an African beat. During the dance, they throw a coconut up in the air and break it with their heads.
'Nati' dance from Himachal Pradesh is not the usual slow dance, typical of the state. The dance is from Sirmour where girls dance with lighted diyas.
'Banjara' dance from Andhra Pradesh is a riot of colours and the traditional gypsy outfits dazzle the audience. 'Mayur nritya', peacock dance, surpasses other dances in grace and gentle movements.
'Ghoomar' from Harayana and the other very famous 'bamrala' originated 300 years ago to motivate soldiers, with big colourful 'nagadas' and 'thap' to stir patriotic feelings. The dance, in those days, motivated the soldiers to fight their enemies with greater spirit and now it is mode of entertainment.
Of course, Punjabis love' gidda 'and 'bhangaras' so no dance festival can be complete without these. besides, 'bhands' and 'mirasis' also entertain the audience with their wit during the festival. The colourful 'garba' and 'dandiya' from Gujarat have also found many admirers.