A career in bioinformatics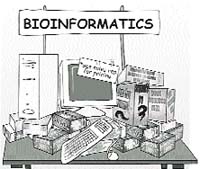 Representing a marriage of IT and biotechnology, bioinformatics is poised to be one of the most prodigious growth areas in the next two decades. Currently valued at around $ 1 billion, the industry is expected to grow exponentially over the next 10 years stretching the very boundaries of biotechnology —transforming an essentially lab-based science into an information science yielding rare biological insights and hastening the discovery of new drugs.
Biotech research generates such massive volumes of information, so quickly that we need newer and swifter ways of crunching the deluge of data (much of it hopelessly jumbled) churned out by the research labs. Mining, digitising and indexing this enormous quantum of data requires high-end computational technology and sophisticated software solutions.
For instance, it has taken over 10 years of round-the-clock study to merely map the human genome sequence, which involved identifying three billion base pairs of genes! In terms of volume, this information would fill over 2,000 standard PC diskettes!
And that is just the beginning. It is believed that in a few years, almost complete genetic information of all living organisms will become available through databanks for scientific research.
However, the real revolution in cell biology is not the decoding of genomes (the basic organic nuts and bolts i.e. the chemical composition of the DNA) in humans, plants animals or pathogens but observing the patterns of gene activity and interaction within these sequences.
Fathoming, classifying and mining this enormous quantum of data requires highly sophisticated software solutions like relational databases and reverse DNA synthesis. Global giants like Motorola, Oracle, and IBM are working towards this end. In fact, IBM is investing $100 million in building a supercomputer called Blue Gene for simulating protein processes and for evolving 3-D structural data to represent these processes.
Global IT majors like IBM, Motorola, Hewlett Packard and Oracle followed by our own TCS, Wipro, Satyam Computers, Spectramind E-services and several others are diversifying into this sector by teaming up with biotech and pharma companies like Monsanto, Ranbaxy, Dr Reddy's Labs.
Globally, the biotech computing sector is estimated to touch a whopping $30 billion by 2003 and $ 60 billion in 2005. This in turn will create a corresponding boom in job opportunities. According to a white paper prepared for the Ministry of Information and Technology, the current size of the Indian bioinformatics industry is estimated to be between $500-$700 million.
Companies need cross-functional manpower at all levels — biologists with IT skills, or IT professionals with a serious interest in biology (just one of the skills is not enough) who can offer complete cost-effective database solutions to pharma and genome-based biotech companies all over the world.
While a Master's or PhD is preferred at the science end, knowledge of Java, Unix, C, C++, RDBMS such as Oracle and Sybase, CORBA, Perl, CGI and web scripting.
The work
There is no such thing as a typical career path in this field. Bioinformaticians need to perform two critical roles: develop IT tools embodying novel algorithms and analytical techniques, and apply existing tools to achieve new insights into molecular biology.
However, you must remember that although powerful and highly specialised in itself, bioinformatics is only a part of biotechnology. Getting a DNA sequence coding for a new protein does not automatically make it useful. Unless this information is converted into useful processes and products, it serves no purpose. You can not, for instance, have a virtual drug or a virtual vaccine. We need real products. And we need to develop our own new molecules (particularly if we have to survive in the new IPR regime).
Pay at start
Starting with a package of Rs 12,000 to Rs 15,000, you can expect Rs 20,000 with a couple of years of experience under your belt. In fact, the acute shortage of experts in the field has given rise to active poaching of scientists from premier research institutions. The going price for bioinformaticians with a year's experience is upwards of Rs 50,000 per month. Starting salaries in the USA range between $60,000 and $ 90,000 for professionals with a couple of years of experience.
Postgraduate diploma courses:
Jawaharlal Nehru University, Bioinformatics Centre, New Delhi Advanced PG Diploma in Bioinformatics (teaching & research programme).
The course is aimed at training biologists (after MSc or equivalent in the areas of IT, computational biology, mathematical methods and structural bioinformatics).
IIT-Kharagpur Course: Master's in Medical Sciences & Technology (3-yrs) to impart engineering skills to medical graduates and train them for state-of-the-art medical research in the frontier areas of bioinformatics, genetic engineering, immuno-technology, telemedicine, etc. Eligibility: MBBS (60% agg) with maths at 10+2. Selection: a 2-hr objective-type entrance test based on MBBS syllabus.
University of Pune, Bioinformatics Centre, Pune. Course: Advanced Diploma in Bioinformatics (1-yr) Eligibility: Master's in Vet Sc, Agri, Pharma, MBBS, MCA, BE or BTech. (Reservation: 50% seats for SC/ST and 30% for women). Website: www.bioinfo.ernet.in/1~diploma.
Osmania University, PGRR Centre for Distance Education, Hyderabad 500007. Course: Postgraduate Diploma in Bioinformatics. Eligibility: Master's degree (MSc or above) in any branch of biol/life/agri/pharma/
vet/medical/environ science, including biophysics (55%).
Amity Institute of Biotechnology, E 27 Defence Colony, New Delhi 110024(NOIDA & S Delhi Campus). PG Diploma in Bioinformatics (1-yr). Eligibility: BSc (Biotech/Comp Sc) / BCA Website: www.amity.edu/aib.
University of Calcutta, Bose Institute, Bionformatics Centre, 92 Acharya Prafulla Chandra Road, Kolkata 700073. Course: Postgraduate Diploma in Bioinformatics. Eligibility: MSc (Biotech, Phys, Chem, Math, Microbiol, Botany, Zool, Agri, Vet Sc, MCA, BE/BTech, MBBS, or equiv (60% agg). Selection: Entrance test.
Madurai Kamraj University, Bioinformatics Centre, Madurai 625021(TN). Course: Postgraduate Diploma in Bioinformatics.
Institute of Microbial Technology, Chandigarh.
Studying abroad
If you wish to pursue higher studies in bioinformatics in the USA, here are some of the universities to target:
Boston University, Stanford University, University of Washington, Washington University (St Louis), University of Pennsylvania, George Mason University, University of California (Santa Cruz), University of Houston, Baylor College of Medicine, Rice University.
Other key players in this sector: Kshema technologies, Strand Genomics (set up by 4 IISc Proffs).
Pervin Malhotra