Why parents reject boarding schools
A caring and nurturing family is generally considered the most conducive environment, both by psychologists and sociologists, for the healthy all-round development of a child.
Sucharita, who taught in a boarding school in HP for five years, decided against sending her son and daughter to a residential school. She felt that children should be sent to a hostel only after Class X or XII, when they are able to look after themselves emotionally and physically. Children younger than that are completely dependent on school authorities for everything. Often, school authorities are lacking in skills needed to handle young children. Apart from this, parents find it difficult to impart a value system to their children if the latter are not staying with them. As a consequence, the parent-child bond definitely suffers. Moreover, schools often use harsh methods, including corporal punishment, to inculcate discipline in the students, a task that parents can do with more love. As a teacher and a parent, Sucharita says, she has seen that the lessons children remember best are the ones that are taught with love
Expressing similar views, Purnima Dutta, a teacher at Doon School, recently in an interview, remarked that she would not like to send her she daughter to a boarding school, which according to her, is an "artificial community", comprising only peers. "The housemasters are meant to compensate for the parentsí absence, but itís not really the same when a teacher tries to be a mother or father to ten boys." If parents can manage, itís better not to send children to boarding schools, is her advice.
Another teacher from a leading boarding school of the region, who did not wish to reveal her identity, had serious reservations about the good that comes out of hostel life. She disclosed that some children at the boarding where she was teaching did not want to go home even during the holidays. They felt alienated from their parents, who they said pampered them for the first and last few days of their holidays. For the rest of the vacation the kids felt ignored, as the parents got involved in their routine lives.
Feelings of rejection, anger and betrayal felt by a child upon being sent away from the protective home environment can leave life-long scars on a young impressionable mind. Harleen (name changed), an alumnus of Sacred Heart, Dalhousie, says she looks back at her hostel with mixed feelings of pain and pleasure. She was sent to the boarding because there was no proper school for girls at Nagrota, where her father was posted. She disliked the idea of her brother staying with her parents and getting all their attention.
The fear of bullying, ragging and other forms of abuse, which most newcomers are subjected to and which in many instances acquire ugly and inhuman proportions, also deters many parents from sending their children to boarding. Even serious crimes like sodomy are ignored or suppressed by school authorities. Most of the times no action is taken against the offenders, who are let off with a mere warning, all because the schoolís reputation is at stake. In such cases, the parents of the victimised child can do little else but withdraw the child from the school. Since most parents feel overawed by the schoolís prestige and consider it to be a status symbol to have their child admitted in it, they do not take on the authorities forcefully when they get a raw deal. Moreover, there are no strong associations of parents to take up the matter for them.
Three years ago, Radhika (name changed) decided against sending her 12-year-old son to boarding when he locked himself in his room and threatened to commit suicide. Though she tried to allay the fears of this Class VII student of St Xavierís School in Chandigarh, she did not coerce him because she had witnessed a dramatic change in the personality of her nephew who had been sent to a boarding for only a year, mainly to be reformed. This overconfident, hyperactive child, who was forever involved in one mischief or the other, completely withdrew into his shell after he returned from a boarding school in the Doon valley. He had complained of ragging and boys indulging in drinking and smoking in the dormitories.
What do advocates of hostel life say?
Living in the hostel, where you learn to fend for yourself right from day one and where you meet people of different backgrounds and personalities, can broaden your horizon, boost your confidence, make you more independent and improve your interpersonal skills. You learn to be tactful and patient and make an attempt to look at things from anotherís perspective. Since you have to take your own decisions, you learn by your mistakes. In short, life in a boarding school teaches you all kinds of survival skills.
Geeti Bakshi, whose son is studying in Doon School in Class X and daughter is admitted in Welhelms in Class VII, is extremely satisfied with her decision to send her kids to boarding. Her son, who was very timid and mild earlier, has learnt to hold his own, and this she believes is no short-term gain. The confidence that you pick in your growing years, she feels, stays with you for life. Though she admits that sending her children away from home has been the biggest sacrifice she has ever made, both she and her husband óproducts of residential schools too ó did not want the children to be limited by their vision and fewer opportunities in art and sports. In Chandigarh, she could have only thought of tennis for her son, who now excels in boxing, while her daughter is making a mark in athletics
Name any sport or hobby, and most leading residential schools provide it. Besides providing facilities for swimming, riding, squash, tennis, athletics, badminton, sky diving,sculpting and pottery, children are encouraged to participate in debates and declamation contests. With the day packed with activities, the child does not waste time and is not allowed to indulge in fruitless occupations like watching TV or sitting for hours at end on the computer, surfing or playing games.
Param Braich, wife of a merchant navy officer, who has herself studied in boarding from KG to Class XII, chose to send her 13-year-old daughter to Mayo College this year in order to give her greater opportunity to participate in co-curricular activities. Two months back, she was in for a pleasant surprise when she was told by the hostel authorities that they would like to train her daughter in vocal music. She had never sensed this talent in her child.
Besides detecting your latent talent and offering more exposure, hostel life can toughen and strengthen you emotionally. Eighteen-year-old Apninder, who put in two years at St Georgeís in Musoorie, maintains that no doubt everybody around is helpful but the general indifference towards your well-being toughens you up. When Apninder left boarding in Class VII, his parents noted a marked change in him: he spoke more confidently to adults, could discuss his problems with his teachers and even learnt to manage money by concentrating more on just the essential items.
Amardeep Gill, a lawyer at the High Court, remembers with nostalgia the golden days at Bishop Cotton School, Shimla, which he says can never been repeated: they were full of fun, friends and sports. "My years at the boarding (from Class IV to X) made me a man. I was aggressive, hot-tempered when I joined, but by the time I left hostel, I had become tolerant and mild. I began to appreciate people for their worth and not for the families they belonged to or the riches they possessed."
With hostel comes discipline, routine and rules. A schedule has to be strictly adhered to. Besides fixed wake-up and retiring hours, each hour is accounted for. Any kind of laziness or laxity is not tolerated, let alone allowed. Ashu Arora, a Class XI boarder in YPS, SAS Nagar, who has studied in boarding from a tender age of four (in Sacred Heart, Dalhousie), aptly describes the discipline enforced by the hostel management by saying: "We have to remain with our limits."
The ability to motivate themselves is another appreciable quality that the hostellers imbibe. The merits of boarding schools can easily turn into pitfalls if the inmates are not motivated enough. The studies can take a beating if a balance is not struck between extra-curricular activities and books. Prep time can turn into play or gossip time if the individual does not take the initiative to study.
Interestingly, even those boarders who have had unpleasant experiences like Raman who fled from hostel and Harleen who disliked being sent away from home also recommend that children be sent to boarding to imbibe the positive lessons that hostel life imparts. They believe that the trick lies in choosing the right time the right institution, giving a lot of weight to the Principalís reputation, and realising that a hostel can never be a home away home but is a disciplined home away from home.
The right age to join hostel
Most boarding schools begin to take students from Class IV or V but the age at which the child should be sent to the hostel may depend on many factors like the familyís circumstances, home atmosphere, the childís personality and the kind of exposure the parents want to give their offspring. Parents who in a village or a small town, may be left with little choice but to send their kids away from home, primarily, for studies.
Ranbir, mother of Apninder, does not recommend sending children before Class VI. By then, she professes, the kids get acquainted with family values and have forged strong bonds with their grandparents and other relatives. Ashu Arora, who was admitted to a hostel at four because his parents lived in a village, says: "Even now, some of my relatives have to be introduced to me."
Making a decision
Finally, the decision to send a child to boarding should be taken after giving it a serious thought, the welfare of the child should dictate the choice. It is an important decision, which can have life-long repercussions, both positive and negative, on the child.
What the principals say
Harish Dhillon, Principal, Yadvindra Public School, SAS Nagar

Generally boarding schools cater to most emotional needs of a child. But it has to be admitted that the strong emotional bond the children develop with their parents after being with them all through their school days is often lacking in children who have been in a boarding school. This natural, as children go home twice during the year for no longer than 6-8 weeks. During this time the parents try to make up for the absence by pampering them and avoiding all attempts at correction. The child is treated more like an honoured guest than as a member of the family.
In my 15 years of experience as Headmaster of schools with boarding houses there have only been three cases of sexual abuse by older boys that I have had to deal with. This is reprehensible and I do not condone it. The control of physical and mental abuse depends on the concern accorded by the staff. When the staff show a greater degree of involvement with the children the instances of physical and mental abuse are few. But when there is a lack of interest on the part of the staff this can get out of hand.


J.P. Singh, Principal, St Kabir Public School, Chandigarh

Parental love and guidance are important for the emotional, mental and physical well being of a child. It would be unfair to keep a child away from his parents for a very long time, but to put up a child in hostel for a year or two usually stands him in good stead. The right time to admit a child to boarding is when he is in Class VI or VII, by which time he is capable of looking after himself to some extent. A pampered or fussy child can benefit the most by the discipline and fixed routine followed in a residential school. He learns to become independent and soon finds out that he cannot get away by throwing tantrums.
It is, however, vital for parents to choose the right hostel for their child ó a hostel that not only provides fine boarding facilities but also strikes a balance between academics and extra-curricular activities. The strength of the students and the number placed under a housemaster must also be taken into account. If there are a large number of children in a residential school, individual attention cannot be given to them.


Kabir Kumar Mustafi, Headmaster, Bishop Cotton School, Shimla

There are good schools and indifferent schools. The indifferent school is one which cannot or does not (or both) identify the individual needs of its students and does not attempt to provide the best opportunities for growth. Conversely, the good school is a school that goes out of its way to know every child, to provide the best of facilities and to provide opportunities for exposure and growth that few homes can ever match.
The virtues of a good boarding school cannot be emphasised enough and only those who have been through the experience, either directly or indirectly, or by proxy. i.e. as a student or parent or spouse or partner or friend. will realise its benefits.
Parents who take the huge decision to send their children to boarding schools have every right to, and indeed must, expect the school to groom its students so well that by the time they finish, the young school leaver is obviously well equipped to face the rigours of a swiftly moving professional world and to be able to balance this with a gentler, easier moving personal world. Parents must not expect boarding schools to be luxurious camps and nor should schools imagine that that is what the parents want.
How to prepare a child for hostel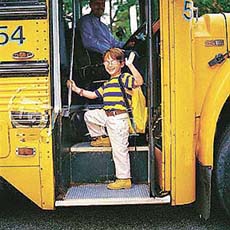 To prepare a child to live in the hostel, first the parents themselves should be convinced that their decision is right. If they are feeling guilty about sending the child away, all their arguments to persuade their offspring will sound hollow to the child.
Dr Priti Arun, in charge of the Child Guidance Clinic in the Department of Psychiatry, Government Medical College, Chandigarh, enlists the following ways to wean a child from home before he is sent to an alien set-up:
The child should be consulted before a decision is made to send him to the hostel

Give the child sufficient time to understand why he is going to a hostel.

The child should be made to realise that the move is for his and not the parentsí benefit.

The move to send the child to a hostel must not be interpreted by him as a punishment, otherwise he will begin to hate and dread the hostel even before he joins it.

Give examples to the child about positive learning experiences, all that a child can gain from the hostel environment. Tell him you want him to learn more besides studies.

Any family friend or a relative to whom the child is close to can also be roped in to talk to the child and dispel his fears. He must be made to realise that the lonely moments will pass away and that heíll come back to his parents, who love him dearly.
Steps to help the child adjust
Never forget that in the boarding your child will never receive the kind of attention he gets at home.

Initially, for a few days you can put up in the town where the hostel is located and then visit the child every two weeks for the next couple of months. Later, you must visit the child at least once a month.

Write frequently to the child. At least one letter must be mailed each week.

Whenever you meet the child lookout for any signs of distress: if the child is unusually quiet or seems upset it is a cause for concern.

If the child has any problem, donít hesitate to bring it to the notice of the school authorities, and if the matter is serious and the school seems to be taking no action, donít hesitate to take the help of law.

Tell your child that thereís no problem that cannot be remedied.