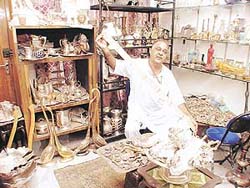 Ravi Bhasin, an antique collector, displays his collection at his house in Panchkula.
The outer walls of his house in Panchkula are adorned with terracotta sculptures of Shiv-Parvati, Ganesha and Kuber, belonging to the 7th century BC. At least three rooms in his house are stacked with antiques, thus making his house look more like a museum. " I had never thought of parting with this treasure, but it is of little interest to my family. This hobby of mine has now become my biggest asset when my health is failing me. This is my jama punji, which will see me through my kidney ailment," he says.
He has already been approached by world-renowned antique dealer Christie's for certain English antiques in his possession, which include a miniscule (1/4" by 3/4") handwritten litho book with litho pictures of great personalities of Europe. This priceless book was written in 1838 and has 50 pages. Cased in a small metal box, it is accompanied by a tortoise-shell magnifying glass.
More than 1000-year-old trade dollars, each weighing 27 gm, with images of Chinese emperors, and cidar wood chests with Chinese paintings carved on all four sides give an insight into the centuries-old Chinese culture.
A set of three original prints of paintings of Raja Ravi Verma, which are valued at several lakhs of rupees, is another one of his priceless collections. These are probably the only prints of his paintings of a woman draped in cloth. Other than this, he has several other original paintings that give details about ancient Rajasthani and Punjabi culture. Shamma daans, made of blown glass, which he had bought from junk dealers in Old Delhi, and original farmaan namas (used for issuing punishments) are reminiscent of the Mughal period in India.
Another unique item in his vast collection is a clock. "I had procured this from a well-known family in Punjab. Though normal clocks ring a bell at the bottom, this clock rings a bell at the top, " he says. The clock has a painting of Maharaja Ranjit Singh, a general of his and Hari Singh Nalwa at its base. Several other ancient clocks also adorn the walls of his house.
Ravi says that he cultivated this habit at the age of 18, when his grandfather gave him some ancient coins. "I was fascinated with these coins and soon approached all goldsmiths and local jewellers in the region to approach me in case they found any ancient coins, " he says.
As a result he has hundreds of thousands of ancient coins — damris, damras, silver coins (asharfis), gold coins (mohars). He claims that his coin collection includes hand-made Kuninda coins dating back to 1st century BC, Indo-Greek coins, lead coins of Marathis, silver and copper coins from the time of the great battle of Mahabharata, copper coins of Ujjaini, and silver coins dating back to 2nd century AD.
Dur to his kidney failure and the subsequent transplant, and a flagging business, he says that he has little option but to sell "his labour of love" (his collection) to fund his medicines and support his family.