The Portuguese connection
Channel for infiltrating militants
M. L. Kak
Tribune News Service
Jammu, September 21
Security agencies in Kashmir feel intrigued over the possibility of Portugal serving as a channel for infiltrating dreaded militants and separatists into Kashmir.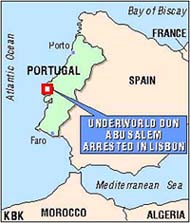 These doubts have surfaced following the arrest in Lisbon of Abu Salem, an underworld don charged with involvement in a series of bomb blasts in Mumbai.

Top functionaries of these security agencies said Portugal serving as a channel for infiltrating dreaded terrorists into Kashmir or for giving sanctuary to these separatists, caught their attention after it was revealed that Abu Salem was holding a Portuguese passport.

They said the Jaish-e-Mohammad supremo, Maulana Azhar Masood, had entered India in early 1995 on a Portuguese passport. It was on the strength of the Portuguese passport that the Maulana had visited several countries, including Burma and Bangladesh. It was Bangladesh that he had crossed into India as a journalist.

Maulana Azhar Masood had been arrested in south Kashmir after he visited several areas in the valley on the strength of the Portuguese passport. Soon after his arrest in 1995, he was lodged in Kot Bhalwal Jail in Jammu.

During this time the Pak agencies floated the Al-Faran rebel group. This outfit was assigned the task of abducting foreign tourists so that pressure was mounted on India to release the Maulana in exchange for the abducted foreign tourists. It was in July, 1995, that five foreign tourists were abducted in the Pahalgam area and when the government refused to bargain for the release of the Maulana they were killed. Till date their bodies have not been found.

Maulana Masood was set free, along with two other dreaded militants, including Mushtaq Zargar (Lattram), in exchange for 150 passengers who had been hijacked in the Indian Airlines plane from Kathmandu to Kandahar in 1999. Soon after his entry into Pakistan the Maulana

founded his Jaish-e-Mohammad which stands banned by India and the US Government. It is under US pressure that the Maulana continues to be detained in Pakistan.

These functionaries said the authorities concerned in Delhi and other states had been advised to question any tourist entering India with a Portuguese passport. They said hitherto those coming from Pakistan, Bangladesh and Nepal were kept under surveillance because of the fact that the ISI had established its bases in Bangladesh and Nepal where a large number of militants were operating for smuggling weapons and explosives and infiltrating trained militants not only into Jammu and Kashmir but into other Indian cities.