Monday, September 23, 2002
Web Jingle
When Rafi sang for Kishore Kumar
Amit Puri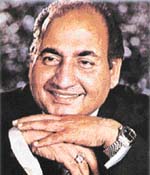 Mohammed Rafi
Birth Anniversary: December 24, 1924
Birth Place: Kotla Sultanpur near Amritsar (now in Pakistan)
Death Anniversary:
July 31, 1980
Top hits: Ude jab jab zulfen teri, Chhoo lene do, Door rahkar na karo, Jana tha humse door, Rang aur noor ki baraat, Tumhari zulf ke saye mein, Chale aaj tum jahan se, Dekho rootha na karo, Dil ka bhanwar kare pukar, Ek ghar banaunga, Jab pyar kisi se hota hai, Yeh zindagi ke mele
MUSIC isnít always hereditary so when Mohammed Rafi decided to become a singer when he was 15, his father opposed the idea. His elder brother, Mohammed Deen, recognised that his sibling had a God gifted talent. So he decided to help his brother in realising his dreams. Mohammed Deen had a barbershop when Rafi was young, and he spent many of his childhood days in his brotherís shop. Mohammed Rafi received his training from Ustads like Abdul Wahid Khan, Pandit Jiwanlal Matto, Ghulam Ali Khan and Firoz Nizami. He sang his first playback song Suniye Hiriye ni, teri yaad ne bahut sataya when he was seventeen for a Punjabi film,Gul Baloch, under the music direction of the late Shyam Sunder in 1941. The song got popular and Rafi went to Mumbai to try his luck in the Bollywood. This time again he sang under the music direction of Shyam Sunder for the movie Gaon ki gori. At that time he faced tough competition from respected singers like Manna Dey, Talat Mahmood, Hemant Kumar and Mukesh.
After this successful debut as play back singer, Rafi Sahab approached the renowned music director Naushad, the combination gave a super duper musical hit Baiju Bawra, which also brought the real recognition for him.
With S D Burman he delivered hits for movies such as Kagaz Ke Phool, Guide, Tere Ghar Ke Samne and Pyaasa. Rafi sang for many actors in the industry. He even sang for singer-actor Kishore Kumar in movies such as Raagini, Baaghi, Shehzaada and Shararat. He was a versatile singer, he could easily adapt himself to the style of any music director. He could sing ghazals, bhajan, classical, folk tunes and quawalis.
Not only was he famous as a great singer but a wonderful human being too. He was known politeness and often sang for a very low fee to producers who could not afford his price. He sang more than 26,000 songs in all the national languages of India in his 40 year career. In 1965, the Indian Government conferred the prestigious Padma Shri on him. In 1977, he received the ĎRajat Kamalí award from the then Indian President, Mr Neelam Sanjiva Reddy, at the 25th National Film Festival Awards.
This site is dedicated to Mohammed Rafi. There are many sections on the site like biography, articles published, lyrics, awards, specials etc. The lyrics and database section of the site provides information about the songs and the lyrics. The database section has 2443 songs information. It tells the movie, name of the song, year of release, musician of the song and lyrists name.
www.musicindiaonline.com/music/l/03030M
This site offers a huge list of songs sung by Mohammed Rafi. Around 130 songs spread in seven pages are available for listening online. The quality of the songs is good. The two other links of the same site, www.musicindiaonline.com /music/l/030303 and www.musicindiaonline.com/ music/l/03030G, respectively, have duet songs sung with Aasha Bhosle and Lata Mangeshkar. There is no other site, which have as many songs of Rafi as this site has. The collection of songs is good. Some of the songs available are Raha gardishon mein, Suhani raat dhal chuki, Sukh ke sab saathi, Taarif karoon, Tere mere sapne, Teri pyari payri surat ko, Toote huye khwabon ne, and Tum mujhe yun bhula na paoge.
www.indianmelody.com/mohdrafi.htm

At the bottom of this page there are two links (Mohd. Rafi Collection 1 and 2) which opens up the pages where we can see the list of songs. We can listen the songs online but cannot download them. Chale aaj tum jahan se, Dekho rootha na karo, Dil ka bhanwar kare pukar, Ek ghar banaunga, Jab pyar kisi se hota hai, Yeh zindagi ke mele and Ude jab jab zulfen teri are some of the songs.