Wednesday, September 25, 2002, Chandigarh, India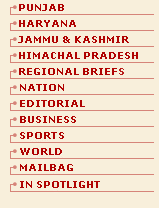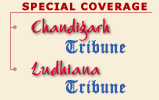 M A I N N E W S
Heavy polling at Salahuddin's village
Aditi Tandon
Tribune News Service


Fact file
Habbakadal residents take to streets; allege rigging
Downtown Srinagar voters abstain from polling
Eight injured in Budgam poll clashes
Anti-poll demonstrations by the JKLF
Srinagar/Budgam, September 24
With the shadow of the last night's incident in Gaugji Bagh looming large, most voters in downtown Srinagar abstained from poll. The electorate in the city area, where Gaugji Bagh is also located, was concerned about how the dreaded militants made their way into the area guarded by a CRPF post. And although the security forces displayed exemplary courage in controlling the situation, most voters believed the jehadis would strike back.
No wonder the electorate slept throughout the day, while the security forces stood guard at the nearly empty polling booths. A curfew-like situation prevailed in the Khanyar, Amirakadal, Habbakadal, Zadibal, Hazratbal and Idgah segments which saw negligible polling upto 1 pm. Anti-poll demonstrations by the JKLF's Javed Mir, who was later arrested at Maisoma, and another separatist at Soura added to laxity.
Meanwhile, the Munnawarabad polling station of the Habbakadal segment was caught in a booth-capturing controversy at 11.30 am. Residents had taken to streets alleging that votes polled in the three Munnawarabad booths were fake. They alleged the NC had hired goons to capture three booths in SMD High School. The Tribune visited the booth and found that in booth A, 16, out of 741 votes had been polled. In booth B, not a single vote, out of 919, had been cast by 1 pm. In booth C, 57, out of 731, votes had been polled.
Though the presiding officer denied charges of booth-capturing, Habbakadal residents alleged that NC goons had rigged the poll. Even as Srinagar awaited voters' response, the electorate of Budgam district comprising Budgam, Chadoora, Charar-e-Sharief, Khansahab and Beerwah surprised poll observers. Braving militants' threats, voters started pouring at booths from 7 am.
Most heartening was to see the voters of Soibugh, HM commander Salahuddin's village, go all out to participate in the poll. Soibugh had four booths, the largest in the Budgam segment. At school booth, Soibugh, 36 votes out of 900 had been polled by 7.30 am. In the Zonal Education Office booth, Soibugh, 40 out of 1,280 votes had been cast by 8 am. Voters of Daharmunnah, Farazgund, Maglar and Aarath villages were, however, not keen. The lowest voter turnout in Budgam was in Aarath, where two votes out of 1,200 had been polled by 10 am. In Budgam, women voters gave a tough competition to their male counterparts. However, polling was not so peaceful.
The first booth of Budgam – booth A — witnessed violence throughout the day, as supporters of two contestants, NC's Syed Ruhullah and his maternal uncle Aga Syed Mehmood (Independent), clashed on the compound. Both sides levelled allegations of booth-capturing against each other. Eight persons were injured in the attacks that followed a verbal war between the two sides. An ITBP company was posted at the booth immediately. Although by 10 am 250 votes out of 1,300 had been polled, voting declined after the incident.
Zonal Magistrate J.R Bhat, however, said the situation was under control. This segment is witnessing a contest between two persons from the same family. In place of the sitting Budgam MLA, Aga Syed Mehmood, the NC has fielded his nephew Syed Ruhullah from Budgam segment this time. Other Budgam booths were bursting with activity at 8 am. Voters were seen fighting with each other to cast the vote first. In Budgam's B block, 60 out of 1,580 votes had been polled by 8 am. The Chadoora segment also saw hectic activity since morning.
In Chadoora Middle School booth, 370 votes out of 1129 had been polled by 10.45 am. Interestingly, where voter turnout was encouraging elsewhere in Chadoora, it was low at Chhanpora, which is located next to Srinagar. Thus Chhanpora, like Srinagar, remained under the shadow of fear.
In a heart-rending incident, militants active in the Bandipora segment of Baramula today killed a youth by slitting his throat. Abdul Rahim, a resident of Ward 3 in Bandipora, who was working as a salesman in the Cooperative Society, was picked up by militants this morning and killed.