NCP candidate hurt, 4 die in blast
Aditi Tandon
Tribune News Service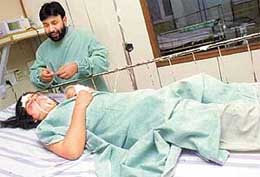 Khalida Mushtaq, a candidate of the NCP, lies critically wounded after militants blew up her vehicle, killing four persons in Srinagar.
ó Photo Amin War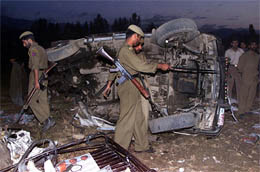 Policemen examine the wreckage of the vehicle on Saturday. ó Reuters photo
Devsar (Anantnag), September 28
In a major display of strength, militants struck again today at 2.40 pm, killing four persons in an IED explosion in the Devsar Assembly constituency of Anantnag district. This attack is the third deadly strike on candidates contesting from Anantnag in the penultimate phase of polling on October 1. The other two targets have been NC candidate from Shangus, Mr Abdul Mir and NC candidate from Kokernag, Mr Syed Rashid.
Todayís explosion at Pahloo was meant to eliminate Ms Khalida Mushtaq, the Nationalist Congress Party candidate from Devsar. While she is still in a critical state, the explosion killed her father Mushtaq Khan, PSO Noor Mohammad, Jehangir Ahmad Beig and Mohammad Yaqoob on the spot. Over 10 persons have been seriously injured and admitted to Burzalla Bone and Joints Hospital, Srinagar.
According to eyewitnesses, the blast damaged the vehicle in which Ms Khalida was travelling. It took place at Meer Bazaar in Pahloo when the cavalcade of Ms Khalida Mushtaq was passing by. She was going to address a public rally. While the loss to life and property has been immense, residents are terror struck because the blast took place under the nose of security personnel, who have been patrolling the sensitive Kulgam-Devsar belt heavily. Personnel on duty informed that although road operating parties had been working to detect mines, they could not be present everywhere simultaneously. The impact of the blast could be witnessed all over Pahloo. With the third phase nearing, the intensity of militant strike in Anantnag has increased tremendously.
Just two hours before the Devsar blast, militants had opened fire at the cavalcade of Mr Abdul Mir, the sitting NC MLA from Shangus. He had a marginal escape but six civilians were injured seriously. The third area of attack in Anantnag was Srigufwara where the militants targeted a Congress election rally resulting in injuries to four persons who have been admitted to the casualty.
Todayís blasts come close on the heels of last nightís attack on the NC candidate from Kokernag (also in Anantnag district) Mr Syed Abdul Rashid. Mr Rashid had a narrow escape when the terrorists fired a rocket towards his residence.
While Anantnag is reeling under the fire opened by militants, Sunoorkalipora village in Beerwah (Budgam) witnessed firing of a different level. Within a night two families of this village, which is the native place of Mohammad Ashraf Dar, deputy supreme commander of Hizbul Mujahideen who was killed in 1992, have lost all they had. In a 10-hour long encounter between the security forces and militants, the house of Ghulam Hassan Mir was completely damaged. The encounter started at 2 pm yesterday after the Special Operation Group got information that two Hizbul militants were hiding in Hassanís house. The SOG cordoned off the area. Later in a joint operation by the SOG, the CRPF and the RR, two militants were gunned down and the house of Ghulam Hassan was completely razed to the ground. Personnel at Magam police post where bodies of militants were taken informed that a sniper rifle with two magazines, one AK 47 and one UBGL was recovered from them.
While security personnel maintained that Hassanís house was damaged during the operation, villagers alleged that the forces damaged the house by blasting three mines. They said the terrorists were killed outside the house, which was later blasted. They alleged that the forces took away their valuables, including bedding. The two militants have been identified as Mohammad Amin Dar from Narwara Beeru and Gulzar Ahmad Wani of Soibugh.
Meanwhile, in another incident at Pahloo Kulgam at least three security personnel were killed and three others were wounded when militants detonated a powerful improvised explosive device, a UNI report said.
Official sources said militants detonated a powerful improvised explosive device when a vehicle carrying SSB personnel for poll duty reached Pahloo around 2.20 p.m. this afternoon.
The vehicle was blown up in the blast resulting in on the spot death of three jawans and injuries to three others.
The injured were admitted to a hospital.
The entire area has been cordoned off and a hunt has been launched to nab the militants.
The security forces were on way to another nearby village for poll duty when the blast took place.
Srinagar: In another encounter between militants and the security forces at Badkote in the frontier district of Kupwara, two foreign infiltrators were killed. One army jawan also died in the encounter and another was critically wounded. Two AK rifles, six magazines, 120 rounds and five grenades were seized, according to a UNI report.
Another foreign militant was killed by the security forces at Narian Bahak Karnah in the same district late on the night of Friday.
Two foreign militants were wounded in an encounter with a joint patrol party of the SOG and the security forces at Dardpora Lolab. However, they managed to escape leaving behind one AK rifle and 25 rounds.
A member of Panchayat Noor Mohammad was shot dead by militants at Chak Bhaderwah on Friday night while three persons were injured in a grenade blast at a bus stand Sirhama in Anantnag on Saturday. The security forces killed two foreign militants in an encounter at Kallar Gali in Poonch district of the Jammu region on Saturday.
Another foreign militant was killed by the forces at Chajla Pathri in the same district on Friday night.
Two civilians Nazir Hussain and Mohammad Misri, who were kidnapped by militants, were killed in an encounter between the kidnappers and the security forces at Mal Gujran on Friday night.