Sunday, September 29, 2002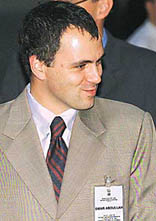 We are young, we see Kashmir in a new light. Hopefully, from that will emerge solutions that have not been looked at so far...

Omar Abdullah talks to Ashwini Bhatnagar
Generation next of Kashmir politics
Ehsan Fazili
Mirwaiz Umar Farooq: The founder Chairman of the separatist Hurriyat Conference believes in a phase-wise dialogue to resolve the Kashmir issue. He is of the opinion that ultimately the solution has to be through tripartite talks—India, Pakistan and the representatives of Jammu and Kashmir.
Champagne cost Rs 74 the day the Mahatma was born
K. R. N. Swamy
IT is interesting to consider, what the situation in the world was on October 2, 1869, the day Mahatma Gandhi was born. Scarcely a dozen years had passed since the First War of Indian Independence (Sepoy Mutiny). The world had just celebrated the first birth centenary of Napoleon Bonaparte, who was born in 1769 and had died 52 years later, in 1821. The Suez Canal was in the final stages of construction and its opening in November, 1869, was eagerly awaited.
Humour is the salt of life
R. C. Sharma
IT has been generally seen that by temperament some persons are humorous while others are serious. To be able to make a joke, or take a joke, is a peculiar faculty of the mind that everybody does not possess. Some people are excessively serious. It is their nature to be so. Others are, by nature, frivolous though it is not the same thing as being humorous. Humour is a faculty of the intellect. The puritan is a type of serious man — you may expect no mercy from him. The comedian, on the other hand, is a type of humorous man — he will not only laugh at himself but make others laugh too.
Common people, uncommon zeal
Crusader who saves mangroves
Surendranath C.
HIS real name is Pokkan, quite an earthly name for an untouchable pulaya (a downtrodden caste group of agricultural labourers and fisherfolk) born in the 1930s in Kerala. When he was born, his umbilical cord was like a blown-up balloon, or the bloated, elongated, seeds of the common mangrove tree. Out of affection, his kith and kin called him Pokkudan. He is now known as Kallen Pokkudan.