Monday, September 30, 2002, Chandigarh, India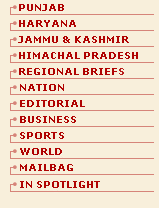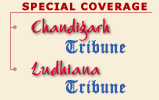 M A I N N E W S
Campaigning for phase III ends
Tribune News Service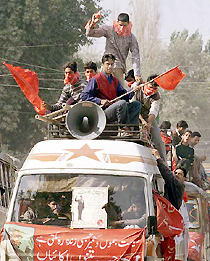 Supporters of Kashmir's ruling National Conference Party campaign in Kakpora on the last day of campaigning for the third phase of elections in Jammu and Kashmir on Sunday. More than 575 people have been killed since India announced assembly elections for the troubled state on August 2.
— Reuters photo

Pulwama, September 29
Campaigning for the third phase of Assembly elections in Jammu and Kashmir ended this evening with the Chief Minister-in-waiting, Mr Omar Abdullah, "predicting his party's victory in view of its achievements during the past six years and its performance in the first two phases. Polling in 16 Assembly constituencies in the twin districts of Anantnag and Pulwana districts in south Kashmir comprising 8.6 lakh voters who will decide the fate of 106 candidates will be held on Tuesday.

Repolling in nine polling booths falling in Poonch, Budgam and Jammu districts is also being held on Tuesday. These include six in Poonch (three each in Surankote and Mendhar), two in Budgam and one in Jammu. Polling in these areas was held in the first two phases of elections on September 16 and 24 in Jammu and Kashmir.

Separatist militants have succeeded in making a series of attacks on candidates contesting the elections since early this month. The Minister of State for Tourism, Miss Sakina Ittoo, survived four attacks on her life during campaigning since September 11, while four persons were killed and three others were injured in an IED explosion incident on a candidate of the Nationalist Congress Party (NCP) for the Devsar constituency at Pohloo in Anantnag district yesterday. The candidate, Ms Khalida Mushtaq, survived with serious injuries and is undergoing treatment at SKIMS, here.

A series of incidents, including grenade explosions, firing on the candidates and security forces installations, have marked the campaigning for the third phase in south Kashmir. While the electioneering fervour was observed in the major towns and market places with adequate security cover, the rural areas bore the brunt of militant attacks in parts of south Kashmir, particularly the areas of Pulwama district.

Polling in these 16 Assembly constituencies is also being held in the aftermath of major strikes by the militants prior to the polling in the first phase in Baramula and Kupwara districts of north Kashmir that witnessed the killing of two candidates, one of them a National Conference candidate and former Law Minister, Mushtaq Ahmad Lone, at Lolab and an Independent, Abdul Rahman Sheikh at Handwara. The polling in Srinagar and Budgam districts witnessed a low percentage amid reports of boycott, fear and a night-long encounter between holed-up militants and security forces in the posh Gogji Bagh locality of Srinagar.

The third phase elections in south Kashmir will witness polling in the prestigious Anantnag constituency that had elected one of the former Prime Ministers of Jammu and Kashmir, Mr Shamsuddin, and three former Union Ministers, Mohammad Shafi Qureshi, Mufti Mohammad Sayeed and Mohammad Maqbool Dar. It will also

decide the fates of three sitting ministers, Peerzada Ghulam Ahmad Shah, Bashir Ahmad Nengroo and Miss Sakina Ittoo apart from three other sitting members from their respective constituencies.

The National Conference has got the distinction of getting elected 14 of the 16 members in the 1996 elections from south Kashmir. One seat of Kulgam had gone to the lone CPM candidate, Mr Mohammad Yusuf. Former Union Home Minister, Mufti Mohammad Sayeed, has been traditionally charging the ruling National Conference of "corruption and misrule" over the past six years. He also harps on the charge of rigging polls against the ruling National Conference. The PDP demanded elections under Governor's rule. It has threatened to withdraw from the poll in case some immediate measures to provide free polling atmosphere for the second and third phases were not taken.