THE TRIBUNE MAGAZINES
On alternate Mondays

On Sundays
On Saturdays

IN PASSING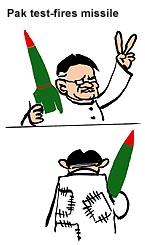 by Sandeep Joshi
No evidence of air-dropping in Bengal: IAF
New Delhi, October 4
The mystery behind the suspected droppings at a village in North Dinajpur district near the Indo-Bangladesh border where an unidentified airplane had apparently intruded into the Indian airspace deepened today with the Indian Air Force saying that none of its aircraft was flying over the area at that time.


In video (28k, 56k)

SOS to Sinha for Sikh stowaways
New Delhi, October 4
The National Commission for Minorities and Union Chemicals and Fertilisers Minister Sukhdev Singh Dhindsa have sought the intervention of Union External Affairs Minister Yashwant Sinha in providing necessary assistance for about 20,000-25,000 Sikh youths who have migrated illegally to various countries in Europe, the USA and Canada.
Karnataka must comply: SC
New Delhi, October 4
The Supreme Court today directed the Karnataka Government to immediately comply with the order of the Cauvery River Authority, headed by Prime Minister Atal Behari Vajpayee, directing release of 9,000 cusecs per day to the Mettur reservoir in Tamil Nadu.
Sri Hargobindpur goes to seed
Hargobindpur, October 4
One of the ancient towns of the state, founded by the sixth Sikh Guru himself is fast turning into ruins — thanks to the callous attitude of the successive state governments, the Department of Archives.
A portion of the historical 'Palace', meant for the residence of women, which has crumbled due to the apathy of those concerned at Siri Hargobindpur (Gurdaspur). — Photo Rajiv Sharma
Nine militants shot
October 4, 2002

Fresh wave of violence in J&K
October 3, 2002

6 jawans die in blast
October 2, 2002

Security umbrella for 3rd phase poll
October 1, 2002

STF back in barracks
September 30, 2002

10-day police remand for R.K. Sharma
September 29, 2002

Temple attackers were Pakistanis
September 28, 2002

Stray incidents mark bandh
September 27, 2002

Army deployed in Gujarat
September 26, 2002

Ultras storm Gujarat temple, kill 30
September 25, 2002