To complement the lungi look, Shaina suggests a dull halter blouse with gold-thread embroidery. For added drama, she also recommends an antique jamever stole, casually wrapped around the shoulders.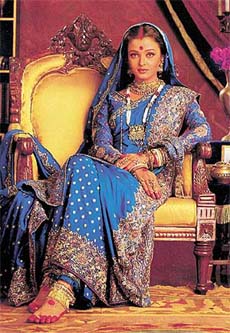 Trouser combo: For an adventurous fusion effort, take a georgette saree with Austrian sequins (sprayed all over) in combination with black, embroidered trousers. The sequins could be in jal formation and teamed with a one-shouldered embroidered blouse.
The saree here is pleated on one side and tucked in at the waist, while the pallav is brought around the neck to show a cowl. A cowl is also formed at the back to add volume to the look — just right for women on the slimmer and tallish side.
"A tall person with a short haircut can carry off this look best," affirms Shaina. "This look compliments slightly hefty women as well. But I believe that a woman with confidence can carry this drape most effectively in style. "It's a matter of bearing."
Double saree drape: Here two nine-yard sarees with scalloped borders are worn simultaneously. One is tied in the normal manner — worn on the left shoulder, brought around and tucked in the right hipline. T he second saree goes the opposite way — tucked in the left hipline and brought over the right shoulder.
"The beauty of this saree is that the pleats fall on both sides," Shaina points out. "Very slim silhouettes can be projected as voluptuous in this drape. For, young college-going girls, this is an ideal ensemble for a formal, dressed up look."
Shaina suggests contrasting colours like burgundy and midnight blue for the two sarees, while the blouse could take on either hue. Heavy gold jewellery on the arms, neck and ears and flat leather sandals to match would complete the look.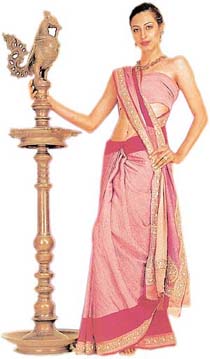 Ghagra drape: In pink Benarasi silk weave with heavy hand-worked palla-jal in kasab embroidery, the saree is draped around one arm and the pallav on the opposite shoulder. For a still daring look, the pallav may be pinned high on the right shoulder, exposing the neckline.
"The saree shows off slim waistlines," Shaina explains. "It is great for music concerts and wedding functions. But women, especially those after childbirth who develop pear-shaped (hip heavy) figures should refrain from attempting this drape."
Coordinated with a matching embroidered blouse, the saree would appear to be least ostentatious in Shaina's collection. But its appeal lies in highlighting the female form, making it the most alluring and sensuous of all the drapes.
These styles may appear to be a departure from the way sarees are generally worn — with pleats on the front and pallav thrown over the left shoulder. But there is no overlooking one fact: while keeping to traditional constructs, there is scope for breaking into modern interpretations.
— MF