Pinching the girl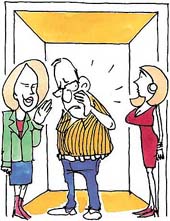 AS the crowded elevator descended, Mrs Wilson became increasingly furious with her husband, who was delighted to be pressed against a gorgeous blonde.
As the elevator stopped at the main floor, the blonde suddenly whirled, slapped Mr Wilson, and said, "That will teach you to pinch!"
Bewildered, Mr Wilson was halfway to the parking lot with his wife when he choked, "I... I... didn't pinch that girl."
"Of course you didn't," said his wife, consolingly. "I did."
World War
Bush and Powell were sitting in a bar. A guy walked in and asked the barman, "Isn't that Bush and Powell?" The barman said, "Yep, that's them."
So the guy walked over and said, "Hello. What are you guys doing?" Bush said, "We're planning World War III." The guy asked, "Really? What's going to happen?" Bush said, "Well, we're going to kill 10 million Afghans and one bicycle repairman."
The guy exclaimed, "Why are you gonna kill a bicycle repairman?" Bush turned to Powell and said, "See, I told you no one would worry about the 10 million Afghans!"