GLITZ & GLAMOUR
She breathes poetry into pottery
Smriti Kak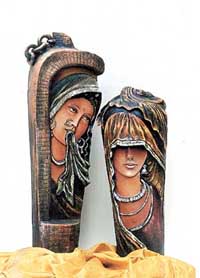 Lasting impressions.
For a student of political science who has not even had the basic training in fine arts, Anju Kumar has done herself proud, learning the art in its purest form. "I have received no instruction of any formal kind, I just learned on the job", says Kumar, who is already 50 exhibitions old.
A Punjabi by descent, the influence of Rajasthani art is unmistakable in her creations, "My husband was posted in Bikaner for five years. It is there that the influence seeped into me and filtered into my work", says Kumar.
Working under the brand name, 'Anmol,' Kumar began her foray in the realms of creativity when people started complementing her for pieces she had done for her house. Earthen planters and urns, designed and painted by her, elicited not just praise, but also inspired her to take her art more seriously. What followed was a commission to make 23 huge urns for a hotel. The challenge was met with zeal, Anju worked painstakingly to match the urns with hues and shades of the hotel.
Kumar's emphasis is on using clay to make things which have some utility, like garden furniture, table lamps etc. "I make things of various shapes and sizes, from six-inch to six-feet. We follow the traditional techniques". Assisted by a couple of craftsmen, Kumar bakes each piece in the 'bhatti' before giving it a new look with the strokes of her brush.
"We have a new look each year. This year, we have used ample colours. The pieces have been done in unusual colours like turquoise and burnt red. There are paintings that have been coordinated with tall vases", points Kumar, confessing, "I am always excited about my work".
Pottery for Anju is the most challenging and flexible medium, ideal for self-expression. She uses various combinations of clay, paints and processes, which are her tools, for creating pieces which are distinctive and exclusive. That is why she has 50 exhibitions and prestigious contracts from leading hotels to boast of.
The range is all-comprehensive, from Diyas to table lamps, statues, murals and even jewellery, but her Ganesha collection is by far the most sought after. This year her range will include ceramic work on wood. Most of these have been inspired by colourful Rajasthan.
Anju's exhibition is currently on at the Blind Relief Association lawns, an annual event that marks the beginning of the Diwali festivities.
Reinventing a form



Roopa Vohra: An eye for detail.
Applying one's mind and paying attention to detail are lessons not just for the corporate honchos, but have been successfully imbibed by those who wish to strike a deal with perfection.
Couture jeweller Roopa Vohra belongs to the tribe that believes attention to detail can evoke images of the painstaking effort that has gone into the workmanship.
Roopa will be displaying her collection, Naqaashi, at the forthcoming 'Bridal Asia'.
Describing Naqaashi as a ballad of artistry and craftsmanship, the designer has tried to make her pieces fluid and with a touch of poetry.
Naqaashi is the age old and somewhat forgotten Mughal art form of etching on gold, that has been revived by Roopa. In attempting this, she has brought in her expertise in glass making to this art form.
Roopa, who is launching her collection in the Capital, believes that like this historic city, which has been rebuilt seven times, Naqaashi is an art form that constantly reinvents, using old techniques in a modern way.
Evergreen hero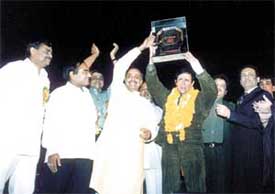 Bollywood personality Dev Anand with distinguished guests in the Capital.
Dev Anand refuses to take a bow. The arc lights continue to focus on his never-say-die attitude, which is in evidence where ever the actor goes. In a recent event organised in the Capital by the Sur Aradhana, a socio-cultural society, the actor was the star of the evening and was all praise for the Capital.
He urged the artists in the city to display their talents in the tinsel town. He went on to add that he would like to shoot his next film in the Capital.
Union Ministers Sahib Singh Verma and Vijay Goel represented the political frat whereas playback singer, Udit Narayan, Bappi Lahiri, Shekhar Suman and Shankar Sawhney added glitter to the event, 'Gaata Rahe Mera Dil'. The USP of the event was that the singers had to sing songs from Dev Anand films.
The organisers, meanwhile, had this to say: "We are organising Sur Aradhana Awards for the last 15 years and we would like to organise a grand programme when Dev turns 100".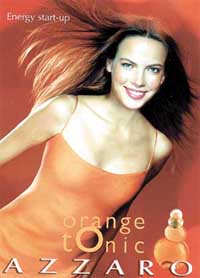 Beauty is not just skin deep
Orange Tonic is Azzaros' newest launch in the perfume section. Here is what the company has to say about the latest product: "At the heart of the Orange Tonic concept is the orange – that biblical, magical fruit with its citrus fragrance and vitamin-rich ingredients.
Orange tonic above all brings the radiant, sun-kissed fruitiness of citrus notes. It also has a beauty-enhancing power, which leaves the skin marvellously soft. Such is the signature of this vitamin-rich duet, which acts on skin hydration and elasticity, as well as its suppleness and softness".
Certainly, modesty is at a premium these days.