Social monitor
Chromosome-scouting knows no bars
Bhavana Pankaj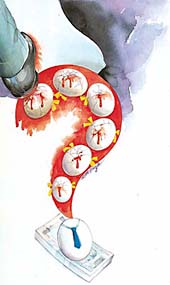 "Why lose your shirt over it? It's their choice— they can have a hundred sons if they so desire and decide how they will have them. Who are you and I to get mad at them? Besides, do you think it matters to the vast silent majority? Think about it. he could have turned out his wife, married the second time to get a son. At least, he didn't do that. He couldn't be such a bad guy, after all," a friend said trying to mollify me.
The story had had me seething. It wasn't the first time when a man had wronged a woman. In fact, not one or two, but four women. It wasn't even going to be the last. His lust for a son had wrecked a young life and humiliated his family. And after all this, he still wasn't such a bad guy. It wasn't as if even the choice was shared. The normally reviled woman was more than happy with her girls in this case. She was left out in the cold while the man went on to do his thing. And now, she had not only to play a doting mother to a son she had nothing to do with - emotionally or biologically - but also congratulate herself for having a husband who had spared the marriage!
Where am I in this story? No where. I may have no right, as my friend says, to poke my nose into it. And merely writing this story is no a guarantee against its repetition. But I don't want to hide behind my helplessness. Or shame myself with silence. I cannot abdicate.


AN immensely rich couple in a megapolis of India used to live with three bright, beautiful and talented daughters. The man, a supremely successful bizwiz, was a modern-day Midas. He was wilful, weird, whimsical. the kind of person who would call up his wife to inform her that he was tea-ing off in Timbuktu. Or who would drive up a few hundred kilometres to a roadside shack for an aloo-parantha in the middle of the night with a hapless friend in tow. No one - wife or friend - would risk asking him any questions or turning him down. All in all, he was a man who was a mogul unto his empire!
His wife, a fine blend of beauty and brains, had given up a flourishing career to raise a family. If she ever rued her decision, we don't know. But after nearly two decades of marital existence, she couldn't be certain of anything about her husband. Except for one thing—he could do or say anything, anytime, anywhere. She had admitted to herself that life with him was going to be a Rubik's Cube. At the same time, we hear, she had power over her husband. Only two people knew how much, she and he. And for all the ho-hum, she had accepted him and that too not too unhappily.
As had the daughters. The delightful trio was not always delighted with their problem-papa but loved him enough to not hold it against him. After all, he was a 40-something brat, the apple of the family tree, the only son of his mother, the only brother to his three sisters. He was mad. He had made piles of money. And above all, he was a man.
No, don't smile! It still is a big deal, in this hi-tech age of the 21st century, to be male as you shall see. So this man had virtually everything one can dream of. But he yearned for an heir, a carrier of his family name, a performer of his last rites, a protector of his pride—a son. Old stuff, you say?
Yes, the stuff is as ancient as the yearning of a seed to become a flower. A seed, says Osho, travels far to become a flower. The urge is beautiful because Nature gives it.
This man was somewhat like the seed. He began to travel, locally to begin with. The couple went to some well-known gynaecologists in their city. But they all shook their heads. "Another pregnancy could be dangerous for her," they said and sent them home.
To be fair to him, he decided it wasn't worth risking his wife's life.
But some urges are primeval. You can't rationalise them. You can neither put a lid on them and pretend they don't exist. They consume you so completely that complete fulfilment is their only cure.
His was such an urge. He renewed his travel and this time, travelled far—to another big city where a woman was ready to play body-double to his wife. She was the young, unmarried big sister to her orphan siblings. Just right for the role.
He badly needed a son and she, money. It was quits. No guilt, no pangs, no chances either - he wasn't taking any this time. The male chromosome was isolated, a test-tube employed and a womb taken. The countdown for a brand new baby boy had begun.
"Come and look at it," the mother back home had called to say to her friends. 'It' was all she could bring herself to say. She was baffled when she should have been beaming, embarrassed when she should have been eager.
But she will learn? As will the girls. Or do they have a choice?
Every story has a moral. This one has questions. And the least one can do with questions is to raise them lest they drive us insane, without any hope for answers in the future.
Here was a man - affluent, educated, modern and, supposedly, purged of a past where a woman was the bane of society. He had three very capable daughters but the thought of being sonless was too much even for him.
You can't hang a man for wanting a son. The drive is born of a raw instinct. But man is the only animal with both instinct and awareness - the ability to look ahead.
Ages ago parents winced at the mere idea of having faced insecurity. They would lose their sleep at the sight of a young daughter in their house. Marriage was a way out but one that would humble them for the rest of their lives. At the end of the day, she was an investment without returns. So very unlike a son who was Nature's gift-cheque that they could encash at the right time! He was a badge they wore proudly on their chest, which they hoped to convert into a walking stick in their old age. He brought home woman and wealth and filled their home, in more ways than one. It wasn't much fun begetting a girl in such times.
Ages later times have changed. But fears haven't. Psyches haven't. And people, by and large, haven't either. If they had, we wouldn't have had to remind you of the young Latawa sisters who hanged themselves on the birth of their brother.
The man in this tale could have adopted instead of vitiating the life of a girl, the age of his eldest daughter, if he so wanted a son. Did the girl know what she was getting into? Probably she did. Probably, she also knew she could have had a worse fate. She was surely compensated well for her services. But would it last her for a life which she might be forced to live in ignominy—with hurt and bitterness?
Or may be, she won't be so alone after all. Sitting miles away from her would be a mother and her three daughters—all sharing that hurt and bitterness. May be.
As for the little boy who is likely to hear the story of his birth when he grows up, we leave it to you to consider his fate and future. May be, he could compare notes with the brother of the Latawa sisters.
This is a bitter tale. It is also true - at least most of it. And like all bitter tales that are true, it would be neither nice nor necessary to give you the names of the characters in this one. They could be x, y, z. But if chromosomes had a tongue, they would call quite a few people quite a few names.