Management of infertility
Of assisted reproductive technologies
Dr Sumita Sofat
Assisted reproductive techniques (ART) overcome the hurdles preventing spermatozoan and oocyte fusion. The rapid advances in the technique of oocyte and sperm handling and better understanding in reproductive biology have contributed to the better management of infertility.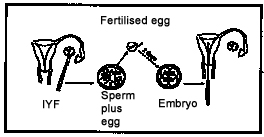 Successful assisted reproduction involves the careful coordination of both a medical and a scientific approach to each couple who undertake a treatment cycle, with close collaboration among doctors, scientists, nurses and counsellors. Only meticulous attention to detail at every step of each patients treatment can optimise their chance of delivering a healthy baby as a result.
For many couples who have exhausted traditional clinical and surgical treatments for infertility, these new technologies may offer the best hope for pregnancy. Through these procedures women with otherwise untreatable infertility problems have given birth to healthy babies.
Some of the commonly performed techniques: IVF-ET — In vitro fertilisation and embryo transfer; Gift — Gamete intrafallopian transfer; Zift — Zygote intrafallopian transfer; Prost — Pronuclear stage intrafallopian transfer; IUI — Intra-uterine insemination: Sift — Sperm intrafallopian transfer; and Dipi — Direct intra-peritoneal insemination.
IVF-ET was first successfully introduced in humans by Edwards and Steptoe in 1978, resulting in the birth of Louise Brown, the world's first baby to be born after using this technique. In India the first ever scientifically documented baby conceived by IVF was born in August, 1986. IVF is a method of assisted reproduction in which the man's sperm and the woman's egg are combined in a laboratory dish where fertilisation occurs and the resulting embryo is transferred to the woman's uterus.
Appropriate patient selection, ovarian stimulation, monitoring and timing of oocyte retrieval should provide the invitro-fertilisation (IVF) laboratory with viable gametes capable of producing healthy embryos.
Who are the suitable candidates?
Initially, it was only used when the woman had blocked or damaged or absent fallopian tubes (tubal factor). It is now used in patients with long-standing infertility not responding to conventional treatment, endometrosis, immunological problems, unexplained infertility, male factor infertility, i.e. less sperm count.
Is there a role for EGG and sperm donation?
Eggs and sperm from a healthy donor or spare eggs from IVF cases can be donated to couples who lack the capacity to produce those gametes. Thus, it is possible to treat women without ovaries and make them pregnant following the transfer of embryo resulting from a donor occyte fertilised with the husband's spermatozoon. Contrari-wise, it is also possible from a woman who has ovaries but no uterus to contribute to the birth of a baby by fertilising her occyte with her husband's spermatozoon and transferring the resultant embryo to a surrogate mother.
IVF-ET can be offered to a couple in whom infertility is due to oligospermia or due to blockage after collecting the spermatozoa above the block by micro aspiration.
What tests are required before IVF?
What tests are required before IVF?
Both men and women need to be investigated thoroughly as regards the cause of infertility. These tests include abdominal and vaginal scan, colour doppler, harmonal assys and complete semen analysis.
Basic steps of IVF
Super ovulation: During super ovulation drugs are used to induce the patient's ovaries to grow several mature eggs rather than a single egg that normally develops each month. Depending on the programme and the patient, the drug type and the dosage vary. Most often the drugs are given over a period of seven to 10 days.
The growth of the follicle is monitored by ultra-sonographic screening of the ovaries, and blood samples may be drawn to measure the serum levels of estrogen and luteinizing hormone.
Oocyte aspiration: Ultra-sonographically guided approach to oocyte retrieval has become the procedure of choice.
Insemination, fertilisation and embryo culture:
On the day the eggs are HARVESTED, the husband provides a semen sample. Eggs are fertilised with the husband's sperms in the laboratory. The union of these cells is termed as an embryo. A number of such embryos are formed. By careful monitoring of these reproductive cells, normal embryos are prepared for transfer.
Embryo transfer is done on an outpatient basis after 48 hours. No anaesthesia is needed.
Is admission required?
Woman may be admitted for ovum pick-up. Embryo transfer does not require admission.
Does women require to take extra rest?
No, normal activity may be undertaken after embryo transfer.
What is the success rate?
For any treatment cycle started, the expectation of a couple for pregnancy is about one is to four.
Newer procedures:
IVF technology is improving by leaps and bounds and many exciting advances have taken place recently. These are now available in India. They include Zona pellucida drilling by lasers or chemicals. By using "co-cultures" in which the embryo is cultured along with "feeder cells" in the culture dish, better pregnancy rate is claimed with co-cultured embryos as compared to embryos grown under traditional IVF conditions.
Embryo freezing:
Since most IVF programmes superovulate patients to grow many eggs, there are often many embryos. Since the risk of multiple pregnancies increases with the number of embryos transferred, many patients are left with spare embryos. It is now possible to freeze these embryos and store them in liquid nitrogen. These stored embryos can then be used later for the same patient so that she can have another embryo transfer cycle without having to go through superovulation.
Once stored, embryos can be used by the couple during a later treatment cycle, donated to another couple or removed from storage. Thus, embryo freezing provides an avenue for successful pregnancy in the patients with hypergonadotrophic hypogonadism or inheritable genetic disorder.
The writer is Director, Sofat Infertility & Women Care Centre, Ludhiana.