Keep promises made to farmers: IYC tells govt
Gurgaon, October 20
The Indian Youth Congress cautioned the NDA government and the ruling INLD in Haryana to desist from anti-farmer policy. It warned of intensifying agitation against the two if they did not take corrective measures.
Youth fest a soothing salve for Jhajjar sore
Jhajjar, October 20
Amid heightened tension following the lynching of five persons in Dulina by a frenzied mob, the three-day Rohtak Zone Youth Festival came as a breath of fresh air and helped in scaling down passions with its sheer secular character. The festival concluded here on Saturday.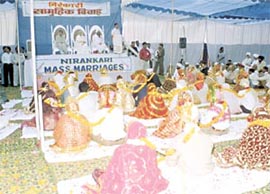 Nirankari Baba Hardev Singhji Maharaj, his mother and spouse blessing the 25 couples who tied the knot at a simple ceremony organised by Sant Nirankari Mission.
Cleanliness drive proves a stinker
Faridabad, October 20
There appears to be no effect of the 'two-week-old special cleanliness drive' concluded here recently as heaps of garbage could be noticed in many parts of the town with the civic body officials unmoved.
Holistic excellence through spiritual wisdom
Rewari, October 20
Om Shanti Retreat Centre, Brahma Kumaris' educational complex for higher learning, is a new sister institution of the Praja Pita Brahma Kumaris Ishwariya Vishwa Vidyalaya (Mount Abu, Rajasthan). It is fast developing into a life-elevating academy for men, women and children from all walks of life.
Noida to allot land to farmers soon
Noida, October 20
The Chief Executive Officer of Noida, Mr D. S. Bains, has ordered his staff to complete all formalities for the allotment 10 per cent statutory land to farmers within two months.
Mission's aims outlined
New Delhi, October 20
Sant Rajinder Singh Ji Maharaj, head of the Sawan Kirpal Ruhani Mission - Science of Spirituality and president of the World Council of Religions, gave a spiritual talk to a mammoth gathering at Paras grounds in Kalkaji on Friday.
NCR BRIEFS
Primary teachers to launch stir if transferred
Rohtak, October 20
The Government Primary Teachers' Union has threatened to launch an agitation if the teachers appointed or transferred to Rohtak after January 1, 1995 were transferred to other districts by force in the name of having surplus teachers.
Seminar on institutes
584 cases settled
DELHI DIGEST
Road named after Acharya Shree Tulsi
New Delhi, October 20
Delhi Chief Minister Sheila Dikshit today named the 12-kilometre stretch of road from Andheria Mod to Gurgaon Border as Acharya Shree Tulsi Marg. Acharya Shree Tulsi was the acharya of the Tera cult of Jain religion. A simple function was organised near Andheria Mod in which Mrs Jaishree Panwar, Mayor of Delhi, Mr Satbeer Singh, Chairman, Education Committee of MCD, and Mr Ashok Jain, Deputy Chairman of Standing Committee, and prominent disciples of Jain religion were present.
IGNOU tie-up
Eye specialists' conference