Tuesday, October 22, 2002, Chandigarh, India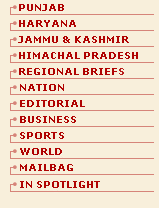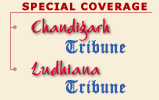 M A I N N E W S
Probe Dalit killings, Advani tells Haryana
Tribune News Service
New Delhi, October 21
Deputy Prime Minister and Home Minister L.K. Advani, today said he would ensure a thorough inquiry into the killing of five Dalits in Jhajjar district of Haryana and called for "strictest punishment" to the guilty.
"We will urge the state government to institute an inquiry into the incident so that the stringent punishment is given to those responsible for committing the crime," Mr Advani said at a function held in his residence to mark the birth anniversary of sage Valmiki.
The function, organised by Delhi BJP's SC Morcha was originally scheduled to be held at Prime Minister Atal Behari Vajpayee's residence, but the venue was later shifted to Mr Advani's house due to Mr Vajpayee's indisposition.
Five Dalits were lynched by a mob allegedly for having skinned a cow in Jhajjar last week.