Pigs' paradise? That's Sonepat, for you
Sonepat, October 21
The cleanliness campaign launched by the district and civic administration on October 2 last has proved to be a total failure in this city. The whole town literally stinks and is replete with garbage heaps. About Sectors 14 and 15, residential colonies of the Haryana Urban Development Authority, the less said the better.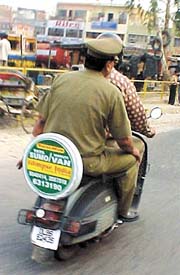 LAWLESS RIDE! — Photo by Anil Sharma

Rainwater harvesting system must in Huda plots
Faridabad, October 21
Anyone who constructs a house on a plot allotted by the Haryana Urban Development Authority and whose covered area of the roof was 100 square metres or more will have to install a proper rainwater harvesting and artificial recharge of groundwater technique system.
Indian agro-climate 'best for pulses'
Ghaziabad, October 21
The world is going to face acute water scarcity in coming years, according to Dr William Dhar, Director General of International Crop Research Institute. In such a given scenario, only these farmers who cultivate such crops which survive on less water will prosper.
Enact information Bill: Seminar
Rohtak, October 21
Mr Bharat Dogra, convenor of the National Campaign for People's Right to Information and an eminent columnist, has stressed the need for right to information for developing a healthy society.
FACE TO FACE


'UGC encouraging private institutes, blinking at standards'
The recent protest against the University Grants Commission's continuing agenda of curtailing expenditure through dubious policies was a major success. The teachers stood united against the UGC directive to increase workload, interpreted by some as a step that would lead to the retrenchment of teachers.
THE ACHIEVERS


This Samson dares militants in their lair
New Delhi, October 21
It was October 1988. Some militant group attacked his father, Mohamad Abdullaha, a senior leader of the National Conference and a vocal opponent of terrorism. His Srinagar-based house was also ransacked.
Valmiki culture's true representative: Sonia
New Delhi, October 21
Congress president Sonia Gandhi said that Maharishi Valmiki was the true representative of Indian culture and mythology. What he had contributed to human society could not be depicted through words.
Work on Badarpur flyover to begin soon
Faridabad, October 21
The construction of the much-awaited flyover at Badarpur will start this year. Mr Chautala said at the 'Sarkar Apke Dwar' programme for the NIT Assembly constituency today that the Union Government had sanctioned the project.
NCR BRIEFS
Cong activists burn Togadia's effigy
Faridabad, October 21
Congress workers led by Mr Anand Kaushik, a member of the All India Congress Committee, burnt an effigy of the general secretary of the Vishwa Hindu Parishad, Mr Pravin Togadia, at Ballabgarh here on Sunday in protest against the latter's remarks on Congress president Sonia Gandhi.
Stone of DPS laid

Cows electrocuted

Jawan killed

Eight hurt in clash

Three robbers nabbed
DELHI DIGEST
Punjabi writer Harbhajan Singh passes away
New Delhi, October 21
Noted Punjabi writer, critic and academician Dr Harbhajan Singh passed away at his residence here today after a prolonged illness. He was 83. Winner of the Sahitya Akademi award, Dr Singh has authored about 300 books. He served as a Professor in Delhi University for nearly three decades and was later appointed Professor Emeritus for his outstanding contributions.