THE TRIBUNE MAGAZINES
On alternate Mondays

On Sundays
On Saturdays

IN PASSING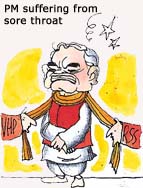 by Sandeep Joshi
Two rebel UP BJP leaders suspended
New Delhi, October 22
In a swift action against the growing dissidence in its Uttar Pradesh unit, the BJP today suspended two rebel legislators for anti-party activities in the state. Sending a clear message to the cadre that the party was not going to tolerate indiscipline, the BJP suspended veteran MLA Ganga Bhakt Singh and MLC Ramasheesh Rai, both of whom had held senior posts in the party earlier.
Vigilance files challan against Virbhadra
Shimla, October 22
The state Vigilance Department here today filed a challan in the court of Mr M.D. Sharma, Special Judge, against Mr Virbhadra Singh, Leader of the Opposition, Mr O.P. Yadav, the then Forest Secretary, and two others, besides Sagar Katha Udyog, under various sections of the Prevention of Corruption Act and the IPC in the khair wood allotment case.

PM advised 2-day rest
New Delhi, October 22
Prime Minister Atal Behari Vajpayee has been advised complete rest for the next two to three days.


Kisan adalats to 'try Congress govts'
Gurgaon, October 22
Taking a cue from the strident tone of the BJP against the Congress, its frontal organisation, the Bhartiya Janata Kisan Morcha, has decided to organise "kisan adalats' against the Congress and its allies. The national president of the BJKM, Prof Mahadeorao Shiwankar, who was here last evening en route to Alwar district in Rajasthan, confirmed the development to TNS.
Deadlock continues
October 22, 2002

Manmohan hopeful
October 21, 2002

Manmohan to hold talks with Mufti
October 20, 2002

Decision to freeze DA, bonus deferred
October 19, 2002

Governor's rule in J&K
October 18, 2002

CCS okays troop withdrawal
October 17, 2002

Ultimatum to Cong, PDP
October 16, 2002

Cong, PDP adamant
October 15, 2002

J&K poll turning point: Advani
October 14, 2002

Congress, PDP talks make some headway
October 13, 2002

Homage at Ground Zero
September 12, 2002