To keep the lovers of the Lift kara de … type of songs happy, he has also crooned a similar number Kabhi naee …. If Govinda did a small jig in the video of the previous song, here Adnan has roped in Amitabh Bachchan, no less, for not only making an appearance in the video but also for singing a few stanzas along with him. This gesture of Big B has been duly acknowledged even on the dust cover.
It is quite a serious album and as such may not become a hot cake, but it is quite a worthy addition to one's music library.
Shakti the Power (Tips)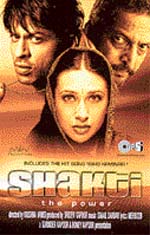 A mega-hit tends to become a trademark for everyone associated with it. After Devdas, Ismail Darbar is expected to provide only Indianised type of music. So when you hear the one-two type beat of Kar de mushkil jeena... Ishq kameena... (Alka Yagnik, Sonu Nigam), you are flummoxed. The surprise lasts till you read the fine print on the jacket. It is actually the creation of guest composer Anu Malik. To hear vintage Darbar, you will have to go to songs like Jhoomti ghata mein... where he hands over the mike to a newcomer, Mohammad Salamat, who does not disappoint, Hum tum miley... in which Adnan Sami does a Hemant Kumar. Jhoomti ghata mein... is later presented in the instrumental form by Naveen. Kavita Krishnamurthy sings two of the slowest numbers of the album, E-chand dil ke... and Hum tum miley..., both of which equally slowly grow on you. Dumroo baje... (Mahalaxmi, Sukhwinder Singh and chorus) is an accomplished chiaroscuro of several folk influences. Dil ne pukara... (Alka Yagnik, Adnan Sami, Ravindra Sathe and Prakash) is distinguished by harmonies created by Clinton, Kunaal, Dominic and Vivian. For the kids, there is Mere munne raja, rona dhona kya... (Anuradha Paudwal and chorus).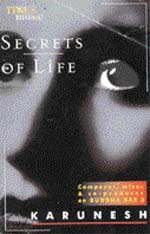 Secrets of Life (Times Music)
This is creative music at its best. So powerful are the vibrations created by it that it can easily be used for meditative purposes as well. It has been composed, mixed, arranged and played by Karunesh of the Buddha Bar fame. This lounge music has been recreated in a crescendo of instruments like guitar (Govi) and tablas (Daniel Paul). Mohammad Eghbal (Yes, that is how he prefers to spell his name) figures in the vocal on Inshallah, which is an exceptional chant.