Likewise, on festive occasions when the mood is vibrant and joyous, costume jewellery is appropriate. You can experiment with different pieces to create an unusual look. For a religious ceremony, you can sport even heavy pieces of traditional gold jewellery.
And if you want to go off-beat, there are countless options. For instance, a white shell embedded in gold can add a special shine and make the piece look exotic. Colour can also be infused in the form of stones and enamels. Stones mounted (not studded) give a multi-dimensional effect to even ordinary ornaments.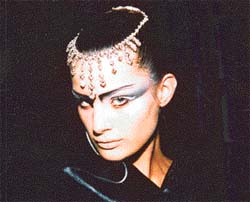 Donít get carried away by fashion trends while buying jewellery. Go for ornaments that go well with your style.

There could be other value additions to a jewellery piece like dimensional height and carving, not to mention interesting features like the use copper, leather, glass and even sponge. But whatever you choose, make sure it does not clash with your personality.
Similarly, while coordinating jewellery with an outfit, make sure the overall result is pleasing. A platinum piece would clash with a dress that has gold embroidery on it. On the other hand, a simple elegant dress can be beautifully enhanced by an unconventional piece of jewellery.
Another important aspect frequently overlooked is that jewellery worn during the day looks different at night. Daywear jewellery should include light pieces like thin rings with small diamonds, leather or light gold strap watch and tiny tops.
If you choose chains, rings must be dispensed with. Also, stone-studded ornaments may be avoided during the day if you donít want to look too formal. Sleek designs in dull or white gold also go well with daywear ensembles.
For the night, you could get bolder and more formal. A chunky piece of jewellery can make a striking fashion statement, but try to balance the look with daintier pieces. For instance, a heavy neck-piece goes well with a light bracelet and small studs.
Stone-studded jewellery worn with an ornate outfit looks dazzling at night. Similarly, a studded gold bracelet worn with a high-necked outfit can work wonders for the look. Dangling stones on earrings, bracelets and neckpieces attract attention and go very well with traditional Indian costumes.
Today, in gold itself, you can create two different looks ó the bold and exotic with stones like lapis, jade, amethyst and coral, or the classic with simple lines, minimal styling and sparing use of diamonds, emeralds and rubies.
White gold may be popular these days, but it should be worn keeping in mind the occasion and your personality. Softer shades of yellow gold is a safer choice as it goes well with almost all colours ó from pastels to heavier hues. And then, it is not as though the metal purity is any less than that of brighter varieties.
Dull gold jewellery can also be matched with platinum to create a white-yellow effect, which is very classy and looks perfect with western wear. Correspondingly, bright yellow gold is just right for ethnic Indian wear, particularly silk sarees and ghagra-cholis.
Then there is silver jewellery, which can be combined with many different looks and styles. With large pendants, flexible links and semi-precious stones, it goes very well with western wear. But more than that, it helps immensely in striking a balance between formal and casual wear.
Gold, however, would continue to reign supreme, even though the market is flooded with designer pieces in platinum and a variety of mixed metals. (MF)