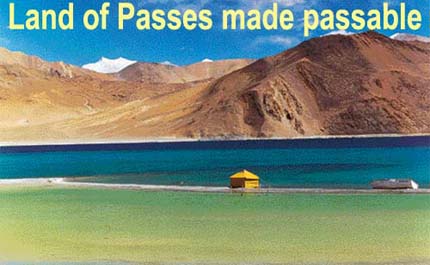 by Reeta Sharma
THE first thing that hits you as you land in Ladakh is the barren terrain. The mountains are bare and so are the plains. The landscape fills you with both thrill as you are overawed by its sheer starkness. It beauty, perhaps, lies in this. Though spread over 98,000 sq. km, Ladakh has a population of only 1.80 lakh.
Can vaastu yield profitable returns?
Rakesh Chawla
MANY a time I have been asked does vaastu really work? And, of late, why are so many people taking interest in vaastu? Well, vaastu isn't nuclear science or space technology that a layperson cannot understand. It is a subject linking man with nature. Its principles are easy to follow. The resurgence of vaastu could be due to a number of reasons.
"O' thou pleasant madness love! Thou physician of all our ills!"
R.C. Sharma
"IT's love that makes the world go round", says W.S. Gilbert. In fact, love is life. Love is happiness. Love heals the sick. Love begets love. Love is the foundation of human existence.
A TRIBUTE
Swami Ram and his Ram Varsha
Sansar Chandra
SWAMI Vivekananda was the first to carry the message of Brahma Vidya or the Vedanta to the West. The other learned soul who followed in the footsteps of Vivekananda in spreading the spiritual message of India at the global level was a young Punjabi ascetic and poet-philosopher called Swami Ram Tirath.