Moscow, October 26
In a pre-dawn operation, Russian crack commandos stormed a theatre here, killing 50 heavily armed Chechen rebels, including three women, and freed over 750 persons held hostage by them since Wednesday, but 90 captives also died in the process.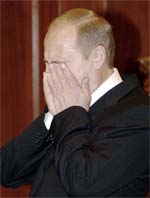 Russian President Vladimir Putin reacts after hearing the news on hostages release in Moscow on Saturday.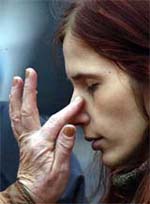 A young woman has a tear wiped from her face by a friend as she waits for information on her brother who was a hostage inside a theatre in Moscow on Saturday.
— Reuter photos

Briefing reporters hours after the operation, Deputy Interior Minister Vladimir Vasiliyev said 90 hostages were killed, mostly due to heart attack and negative reaction of the sleeping gas used by the security personnel to neutralise suicide bombers.
Crack "Alpha" unit of the Federal Security Service (FSB) launched the operation at 5.30 am (7 am IST) when the rebels started executing the captives after the expiry of the deadline they had given to Russia to stop military operations and pull out its troops from Chechnya. They killed two hostages and injured another two, sparking panic among the captives.
Chief of the FSB Nicholai Padrushdi told reporters that 50 rebels, including their leader Movsar Barayev, were killed in the operation and two were nabbed while trying to escape by taking advantage of the situation.
Earlier reports had spoken of concern that some of the Chechen rebels had slipped undetected, taking advantage of the situation.
Deputy Mayor of Russia Valery Shandsdev said he saw bodies of two captors - an Arab and an Afghan.
All 75 foreigners held hostage were saved and there were no casualties among the Russian forces.
Two hours after the dramatic end of the three-day hostage drama, a state-run ORT TV showed footage of the theatre strewn with bodies, some severely mutilated and others with their heads down, as if they had passed out.
Vasiliyev said the security forces blew up a wall to enter the besieged building and quickly took over control of the ground floor, and "rest was a matter of techniques".
He said three women rebels in black burqas (veils) who had explosives tied to their bellies were among those shot dead.
Vasiliyev said security forces used special gas inside the building to subdue the rebels as the risk of explosion was very high, which could have led to the death of over 1,000 people, including the hostages and the securitymen.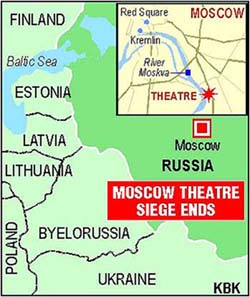 Interior Minister Boris Gryzlov, in a televised statement, said the police nabbed 30 people in Moscow and nearby towns allegedly having links with the terrorists who had stormed the theatre.
Quoting FSB sources, 'Interfax" and "Itar-Tass" reported that Chechen terrorists had links not only with their leaders in Chechnya and other countries, but also with a number of foreign embassies in Moscow, and the matter would be taken seriously with them by the Foreign Ministry. However, no embassies were identified by the agencies.
Later, President Putin visited the Moscow hospital, the Sklifosofsky Institute of Emergency Medicine, where scores of hostages were taken after being rescued.
New Delhi: India on Saturday welcomed the end of the hostage crisis in Moscow, saying law and order and not terrorism had prevailed.
"We welcome that law and order and not terrorism has prevailed," an External Affairs Ministry spokesman told reporters when asked about the pre-dawn operation by Russian crack commandos.
Condemning the terrorist act, India asserted that such actions could not be justified on any ground and emphasised that terrorism must be eradicated wherever it occurred. PTI