Saturday, November 2, 2002, Chandigarh, India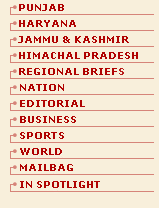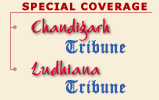 M A I N N E W S
Mufti to take oath today
Tribune News Service
Srinagar, November 1
Mufti Mohammad Sayeed will be sworn in as Jammu and Kashmir Chief Minister here tomorrow, marking an end to the two-week Governorís rule imposed on the state following a stalemate over the formation of a coalition government. The Jammu and Kashmir Governor, Mr Girish Chandra Saxena, will administer the oath of office to the Chief Minister and his Council of Ministers.
The Congress President, Mrs Sonia Gandhi, who was instrumental in forging the Congress-PDP alliance to end the stalemate, is also scheduled to attend the swearing-in ceremony. Former Chief Minister Farooq Abdullah had taken oath on October 9, 1996, after a gap of over seven years of Governorís rule in the state.
Senior Congress leader Ambika Soni accompanied by the AICC general secretary, J&K PCC chief and the LPC leader, Mr Ghulam Nabi Azad, arrived here from New Delhi today and held a meeting with Congress MLAs. Mrs Ambika Soni, was specially deputed by Mrs Gandhi to the winter capital to sort out various issues regarding the coalition arrangement and accommodation of views of various members in the coalition government.
The multi-party coalition government led by the PDP leader, Mufti Sayeed, will comprise the PDP, Congress and three major groups.
Mufti Mohammad Sayeed accompanied by leaders of three other parties, Ghulam Nabi Azad, Bhim Singh and M.Y. Tarigami arrived here on Wednesday evening met the Governor, Mr Girish Chandra Saxena, and staked claim to form the government while submitting a list of 52 MLAs.
Sources here disclosed that only five members of the Council of Ministers, led by Mufti Sayeed are being administered the oath of office here tomorrow. These include the Deputy Chief Minister, Mr Mangat Ram Sharma, one minister each from the Jammu and Ladakh regions, and an Independent member from the Democratic Peoples Forum (DPF). However, the Independents have sought an assurance from the leadership before the vote of confidence and elections to the Rajya Sabha seats shortly.
Speculation is being made over the selection of ministers, for which the designated Chief Minister, Mufti Sayeed, has assured that due representation would be given to all sections and regions of the state.
There are also reports that the strength of the new Council of Ministers will be around 12. These include three Congressmen from the Kashmir Valley, Taj Mohiuddin, Peerzada Mohammed Sayeed and Mohammed Shafi Bhat, a former NC member, elected as Congress candidate from the Amirakadal constituency in Srinagar. The PDP members include Mr Muzaffar Hussain Beigh, Ghulam Hassan Mir and Abdul Aziz Zargar.