Though at the end of one night's session you could go up or down by a couple of thousands or even lakhs depending on how heavily you play, most regulars at Divali dos assert that it is the fun word which attracts them to the card circuit. "Drinking, eating and playing" is what draws 36-year-old Kapil Khanna, a tax consultant, to these lavish celebrations, where money makes the rounds up till four in the morning. Voicing similar sentiments, Minu, a resident of Sector 6, Panchkula, who recently threw a bash for her card cronies and had her big garden resemble a casino with half a dozen tables laid out for different stakes, says that all through the year she looks forward to experiencing the cheer and carousing associated with card parties. Though admitting that her luck never fails her at these sessions, she maintains that to keep the fun intact, she sticks to low stakes.
While women are not known to show any less enthusiasm for gaming, they shy away from taking heavy risks. Twentyseven- year-old Vibha says she and her husband, a businessman, have been meeting eight other couples in their group for the past one month at least thrice a week for card sessions. But men and women generally like to play on separate tables. While women play for laughs with low stakes, men play a tight game and can wind up gaining or losing hefty sums. Men like to keep up the thrill of the game by concentrating on the cash, whereas women who do not like to pump in money to keep the adrenalin flowing introduce variations in the game to keep their interest alive. Variations like 'lowest card wins', 'two colours make a joker', 'twentyfive wins' not only break the monotony of the game but also keep the ladies more attentive. Most serious players, however, choose not to tamper with the typical teen-patti.
Since more and more women are now game for gambling, most party goers either arrange a potluck or go Dutch on the food delivered home to save the lady of the house the botheration of getting tied down with arrangements. The idea is not to shift focus from the sumptuous merry-making even as they continue to invoke the blessings of Goddess Lakshmi.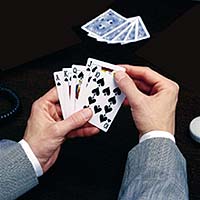 Fun, however, can run out of this festive game if you allow yourself to get burdened with heavy stakes. This flashy game of the moneyed where money gets money can not only get addictive but can also result in irreparable losses if you don't realise when to draw the line. There is a seamier side to the story of Divali stakes, as the euphoric triumphs that you experience may have an ugly end. The obsession for betting can take a heavy toll on both your mental and physical health. What starts off as a playful pastime can lead to a pathological disorder. Raman (name changed), a company executive, says it doesn't take long for gambling to consume your whole being. "Starting off as a mere watcher at card parties, I began to lay bets on the players. After a few days I found myself joining the participants. I began to get superstitious of even very small things like the colour of my trousers or the chair on which I sat. I would even put money on the chair which I considered lucky. Then my each waking moment was spent figuring out gambling moves. Moreover, the strain of sitting for long hours and neglecting the family for this time-consuming sedentary activity began to adversely affect my health and my relationship with my wife and children. The thought that I was indulging in an illegal interest also added to my tension. I let go off this habit only after I felt my limited resources drying up."
Problems surface when gamblers get entrapped in a vicious circle, when a shot at winning may end up in a series of desperate attempts to recover the losses. Players are known to seek out loans, delve into their provident funds, even remove their gold chains or put at stake their wives' ornaments, property papers to make a last ditch effort to win. A Chandigarh businessman, who didn't wish to be named, confides that last year he suffered heavy losses at Divali sessions. He refused to listen to his wife's pleas as he mindlessly continued to play, hoping to pick up his points. This year, unable to help himself, he has been at it again. And he is already looking forward to the festive fanfare next year.
With the passing of the festival of lights, it is inevitable for such hardcore enthusiasts to feel engulfed by the darkness and dullness of a regular routine. Minu admits that it takes time to get back to work, minus the nightlong celebrations. While most players make the final bid on Divali, there are some who cannot disengage themselves from the betting game. They diversify their game plan by speculating on uncertain and unsettled events like cricket matches.
Gambling can not only be damaging but also addictive, just as drinking or taking drugs, say researchers. Investigators have found that gambling for money can bring about physical symptoms, including increased heart rate and the release of certain hormones, which contribute to an overall state of arousal and, perhaps, addiction.(See box for details)
While teen-patti addicts wait for almost a year to add a sparkle to their lives, there are a number of other card players who earnestly wait each day to experience their enlivening game. These addicts spend a good four to five hours dousing themselves in their favourite table game, which could be rummy, canasta, mahjong or bridge. Though playing these games cannot be dubbed as gambling, the intense interest generated by the game and the long hours spent on it every day can lead to addiction, which can prove damaging if higher states are taken up.
By and large, those in their 50s and above and mostly retired defence officers and their spouses, seek solace in these games of skill, some of which like bridge require analytical abilities and are deeply absorbing.
Seventyfour year-old Brig Ramesh Chander, former president of the Chandigarh Bridge Association who is fondly referred to as the Father of Bridge by his fans in the city, acknowledges his addiction for the game while brazenly announcing that one cannot enjoy the game without stakes as there has to be an element of risk. This intellectual and thrilling game can keep him occupied for the whole day. Of the firm belief that people die because of boredom, this winner of innumerable tournaments maintains that bridge — which he took up at the age of 12 — has taught him orderliness and kept loneliness at bay. Thanks to his passion for the game, he could brave and face life without his wife, who expired five years ago. Bridge, he asserts, not only increases sociability but also exercises the mind.
The most common reason given by enthusiasts for investing hours in these addictive games is: they serve as a source of recreation and entertainment. To many others these come as a diversion from a mundane and dull existence. They seek out such activities to kill time, to have a reason to go out of the house and meet people.
Sabi Gill, wife of a defence officer and a regular player of mahjong, a Chinese table game for four which is played with small painted bricks or tiles, says that she takes pleasure in playing her game each afternoon. Besides refreshing the mind, it gives her an excuse to go out and meet friends. Though confessing that the game is highly addictive, she says she was happy to give it a miss when her daughter was over for four months from the USA.
Expressing identical views, Asha Sharma, widow of a defence officer who uses canasta as an excuse to meet her friends, says she has been a keen player of the game, which is a cross between rummy and bridge, for the past 13 years. Her card cronies have become her closest friends, whom she meets from 2 pm to 6 pm every day. At the end of the day they have not only relished the absorbing game but also gained the satisfaction of sharing their sukh-dukh.
Though a section of society may look down upon such money-spinning pastimes — slating them as sports of the rich and the reckless who do not mind putting at stake every day a couple of hundreds, at times, even thousands of rupees — yet even the harshest of critics is likely to fall silent over the therapeutic gains of such diversions.
When Nepa felt that her parents were unable to come out of the grief of losing their young son in an accident, she taught them a couple of card games so that they could put away their worries for at least the time they remained engrossed in the game.
Lack of company, loneliness and health problems, are some of the most common afflictions of old age, which can make one lose the will to live. But a zealous interest or an overriding passion in an activity can help one keep away from such negative thoughts, and thus prolong one's life.
General S. S. Bains (retd), whose right side has been paralysed, takes refuge in bridge to keep himself mentally alert. Since he is unable to use his right hand, he has got a wooden structure made to place his cards on.
With nothing to do all evening and with no friendly neighbours in the vicinity, many card players make a beeline for clubs. Seventynine-year-old Mohinder Bawa and her husband, a retired IAS officer, who have spent a major part of their lives in Orissa and Bangkok, say they have not made many friends in the city. Moreover, they rue, when you get old, people don't like to get friendly with you. Mrs Bawa spends her evenings playing rummy at the Sector 9 Central Club, while her husband remains occupied with bridge. "I feel sick if I don't go out in the evenings," the lady bemoans.
Agreed, such addictive card games help many remain alert and active — mentally, physically and socially — but there can be reason to feel alarmed when the game taken up to ward off worries ends up becoming a cause of worry or when your preferred pastime begins to affect your priorities, and relationships.
Radhika (name changed) does not appreciate her mother-in law's strong obsession for playing rummy. Even when Radhika and her husband, an army officer, visit her, she refuses to miss her hectic sessions — beginning at 10 am and lasting till late in the evening with just a short break for lunch.
Some are unable to do without this addiction even for a single day. Dharampal, who runs two beauty parlours in Sector 9 and 10, says matter of factly that it is either customers or cards for him. Playing not only gives him a high but also keeps his mind fresh. Even when he has to go to Delhi just for a day, he manages to fix up his session there.
Ultimately, it is each to his own — the onus of selecting your trail rests with you. But you can be a winner all the way if you play your cards right and hold the card of caution close to your chest. By flashing your aces at appropriate times, you will neither get ensnared by the prince nor enslaved by the king or queen. We are not being jokesome about the joker-led pack but let not the game hound you, or else you will be putting your peace of mind, even life, at stake!


Gambling can be addictive
GAMBLING can be just as addictive as drinking or taking drugs, researchers report. German investigators have found that gambling for money provokes physical symptoms, including increased heart rate and the release of certain hormones, which contribute to an overall state of arousal and, perhaps, addiction.
Physiological responses to gambling enhance mood and winning has the ability to produce a 'euphoric' state (feeling of happiness, confidence, and well-being), Gerhard Meyer and his colleagues have recorded in Biological Psychiatry.
Meyer and his team suggest that the physiological responses they elicited from the study participants during gambling-for-money exercises in a real-world setting may explain how an individual becomes addicted to gambling.
The research team looked at the behaviour and stress responses of 10 male gamblers who were approached at random in a casino.
All 10 participants engaged in one real blackjack card game session in a casino for monetary stakes and one session without any money involved. In both cases, their heart rate was measured with a portable monitor and saliva samples were taken to test for hormonal secretions.
The researchers found that the increase in heart rate observed during the for-money gambling session was significantly higher than the increase noted during the no-money session. Meyer's team also noted that hormone secretions were elevated to higher levels when money was at stake and that these levels were sustained after the gambling ended.
The release of hormones mimics a stress event — such as parachute jumping — and such an elevation in mood and excitement is often maintained for a number of hours after the gambling has ceased, the authors explain. Such a physical response to the act of betting may be reinforcing, the researchers note, luring the player back for more-simply for the 'rush'.