Landscape was Pasricha's beat because it brought him close to nature. His first outdoor experiments on drawing and painting began with the Delhi ridge to which he returned a few years before his death and created a whole series of water colours capturing the landscape and moods of the Delhi ridge in different seasons and at different times of the day.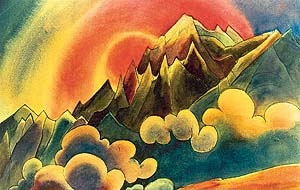 Pasricha had not undergone any formal training in art

His first visit to Mussoorie in 1947 turned out to be the call of the mountains for him. He never looked back after that and mountains became his lifelong obsession. Alternating between his government job and his creative urge, he would save up small sums of money through the year and rush off to the mountains at the first opportunity.
Pasricha traversed the Himalayas from Ladakh to Sikkim, capturing magical mountainscapes, hillfolk in their traditional finery and monuments in vivid colours. Most of his mountainscapes had a special place for the sun, which appeared in the form of a huge red disc.
Water colours, pastels, oils and collage — he had them all in his bag of tricks. But, his first love was always water colours because he acknowledged them as the most difficult and challenging medium.
Like all landscape artists, Pasricha was a man of the outdoors. His quest for salvation in art took him to the Kashmir Valley, Amarnath, Kedarnath, Badrinath, Hemkund, Valley of Flowers, Pindari Glacier, Chamba, Kinnaur, Sangla, Ladakh, Kishtwar, Kulu, Rohtang Pass, Arunachal Pradesh, Sikkim, Goumukh, Lahaul-Spiti, Bunderpoonch, Har-ki-dun, Kamet, Dodital, Yamunotri, Roop Kund, Parvati Valley, Vaishno Devi and Kangra among other places. Many of his earlier trips involved arduous trekking as motorable roads and means of transport were hard to come by.

Mountains became his lifelong obsession
Pasricha's works occupy a pride of place in a number of art galleries and museums in the country like the National Gallery of Modern Art, Lalit Kala Akademi; Sahitya Kala Parishad; All India Fine Arts and Crafts Society; College of Art, New Delhi; Benaras Hindu University; Government Museum; Chandigarh; and Panjab University Fine Arts Museum, Chandigarh.
If Pasricha's paintings were captivating and colourful, his drawings were known for economy of lines. He designed about fifty postage stamps and first day covers for the Indian Philatelic Bureau. A man of rich and varied experience, Pasricha could not hold back his pen. His travel features accompanied by his illustrations appeared in many newspapers and magazines . And, he finally settled down to penning a book entitled Himalayan Travels — Sketch Book of a Painter for the National Book Trust. It is a popular buy peppered with some of his best drawings and colour reproductions of paintings in which he recounts his experiences in detail.
The concept of Pasricha's second book (this time on Indian art) was taking shape in his mind when he departed for his heavenly abode on January 11, 2002. But, for his many admirers and friends who cherish and enjoy his magical mountainscapes, Ram Nath Pasricha still lives on those mountains.