Tackling teens
Forge bonds that transcend teen tantrums
Rajshree Sarda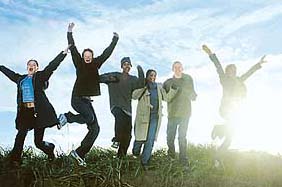 Teens may not mean double trouble if you are cautious
TEENAGERS are a puzzle to themselves, their friends and their parents. Because of the fact that they are going through cataclysmic changes, they often do not understand their own thoughts and feelings.
One such class 12 student came to me and said, "Do you know who I am? I am a comma." I said that I did not understand what she meant by that. Her retort was: "Well whenever I talk to my father, he stops talking but when I am finished, he starts right up again as if I hadnít said a thing. I am just a comma in the middle of his speeches."
If teenagers can pour out their hearts to a counsellor it is because they perceive that they are not going to be condemned for having problems. A counsellor is also not likely to give them quick easy advise that does not work in the real world.
Many of these children will pour out their hearts to their parents too, if only they were assured their parents would listen. Most parents make the mistake of telling first and listening second (if at all). Almost often, the case with teens is that they only want to see if their parents love them enough to listen to them and value their opinions. Parents often complain that their children do not tell them about their dreams and desires. The reason teenagers are silent and uncommunicative with their parents is due to the fact that the parents over-react to whatever they share with the former. Therefore, it is important for the parents not to instantly condemn or correct. Realise that the adolescentís openness is a clear statement of trust and do not violate that trust.
A teenager determines things such as his value, abilities and worth as a person by his parentsí attitudes and actions towards him. If parents are loving and kind, then they are very good mirrors of a childís worth. Generally children in these homes grow up with a healthy sense of identity. But like Ďcarnival mirrors Ď parental mirrors too can be distorted. The more distorted the mirror, the more distorted the image.
If the child perceives a reflection of being unsafe, unloved, he begins to develop problems with his identity as well with his/her relationships. Remember if some one has only one distorted mirror to look in to everyday, he may believe that it is himself not the mirror which is distorted. In the adolescent tears, teens change mirrors. They no longer look to their parents for their identity. Instead, they look to their peers. The choice of peers in this period of their lives is more important than almost any other choice. Therefore conflict is not a surprising facet of the relationship between parents and teenagers.
I remember a specific conflict I used to have with my mother on a weekly basis. I was the fun-loving, active teenager who struggled with the idea of cleanliness, especially when the cleaning lady would come to clean our house. I never grasped the concept of why I had to clean the house before the cleaning person arrived.
This made no logical sense to me as a teenager and week after week, my mother and I would battle over me having to clean the house. You see in my mind, somewhat typical of most teenagers, I did not think she was the cleaning lady. To me, she was the judge. She was the lady who went from house to house awarding families with the Ďcleanest house award.í I hated myself or my house to be judged and so I resented it that time. I couldnít care much and neither would my mother understand that.
A couple visited me a while ago along with their teenage daughter who was seething with anger. I noticed their uneasy faces as I asked them to sit in my counselling hall. I sensed the beginning of a highly energised fighting bout, so I asked them to chose separate corners of my working place. After presenting the problem, the mother asked a very common question: "Is this normal?." The majority of people I see in counselling situations often feel that they are the only ones struggling with these issues. It is reassuring when I tell them, "You are not the first ones to struggle with this conflict". Tears flowed down the cheek of their daughter. Broken and ashamed of her life at just 19, she shared openly of her troubles. The poor grades, punishment, relationships were all part of her monthly routine. She had lost the innocence of childhood because of poor choices and even poorer parenting. I will never forget what she told me once near the end of her session "If they just cared about the little things", she said, looking away to avoid eye contact with me.
ĎThe little thingsí are what matter. It was not a small, but a powerful statement.
We both realised through the course of therapy that her pain and problems did not start at the point they were now. Her parents had allowed the normal, more easily manageable, conflicts to slip through their fingers and remain unresolved. Very soon these seemingly minor problems turned into bigger, more painful issues.
That is why an effort to resolve these simple-looking conflicts is very important when it comes to parenting before they turn in to life-altering events.
Some of these simple-looking conflicts centre around:
Areas of conflict
Viewing TV/ playing CD games.
Talking on the phone.
Taking care of family property.
Setting limits, enforcing rules. Being too lenient.
Spending time with the family.
Ignorance of how a teenager feels and thinks
The manner in which your child speaks to you.
You are not alone with the difficulties you might be facing at this very moment with your teenager. This list contains everyday struggles of living in a family. It shows the effort of a family to strive towards intimacy, acceptance, understanding and validation. It is within these conflicts that the game of parenting is won. It is when the parents lose the sight of the ordinary, every-day conflicts that families suffer the toughest consequences of parent and teenager friction.
Remember some of the best advice out for parents is from parents, especially from those parents who have travelled down the road of raising adolescents and survived. Hoping that parents accept part responsibility of the problems, here are a few pointers for them:
As a parent of a teenager, you should:
Accept the individuality of your teenager.
Understand their needs and aspirations.
Do not use your teenager as a punching bag for your inadequacies.
Be close to your child and keep the communication channels open.
Set boundaries before you give freedom.
Be vigilant without being oppressive
When your child makes a mistake, be supportive.
Loving your teenagers for their vulnerability is what they really want. When they spend more time with their friends than with their parents, they are likely to drift away once in a while. A strong and heeding teenager emerges when he/she has a strong family background with good family bonding as an anchor.