Can the Internet go down?
The Internet is a modern-day electronic cockroach; it adapts and survives, says Roopinder Singh, as he examines how most users were not even aware of the biggest attack on the World Wide Web.
TO those of us in India who are usually disconnected from the Internet for one reason or the other, the answer to the question, "Can the Internet ever go down?" would be surprising: No. The proof of this came on October 21 when a powerful attack was launched on the Internet, and yet most of us were not even aware of it.

Software to reduce air pollution
WORKING out a plan of action to reduce air pollution from Greenhouse Gases (GHGs) from automobiles, power stations and buildings could soon be a mouse click away. A computer software that enables planners and policy-makers to select control strategies that achieve emission reductions of both air pollutants and GHGs has been developed in the USA.

Net's black box
Deepak Kaushik
HAVE you ever wondered when you login and enter a Website, how does the server remember name and other information? Actually, server keeps track of each and every user visiting the site. How is this possible when thousands of visitors are visiting the site simultaneously and how safe is it?

Net resuscitates Urdu
Ehtashamuddin Khan
THE elegant language Urdu, many say, is dying. But its protagonists Ghalib, Mir, Iqbal and Faiz are now much more accessible to the world than ever before, thanks to the Internet. And it is not only for those who know the script but for all those who love the language that evolved in the 13th century due to a strong Persian influence.

Multithreading for multitasking
Sarabjeet Singh Kanwal
WHEN a program code executes, it is called process. A traditional (heavy weight) process has a single flow of control, i.e. one thread. It can perform only one task at a time. Modern operating systems support the concept of multithreading. In multithreading, a process is divided into two or more mini-processes, which appear to run in a parallel fashion i.e. simultaneously. Each mini-process is called a thread (light weight process). A process having multiple threads (many flows of control) can obviously perform more than one task at a time.

E-mail from Tihar jail
SOME 300 foreign inmates of the Tihar jail in the Indian capital finally have a speedy link home, with the authorities allowing them to e-mail their family and friends. "The e-mail facility was introduced because it was seen that while the Indian inmates get a chance to meet their families and friends twice a week for half an hour and receive letters too, the foreign inmates have little contact with their loved ones," a Tihar official told IANS.

Indian voters' list may go online
INDIA, which has more voters than the combined population of the USA and Russia, will put the names of all its 650 million electorate on the Internet. This gigantic exercise will be completed before the next Parliamentary elections in 2004, Election Commissioner T.S. Krishnamurthi said here.

IT WIT
by Sandeep Joshi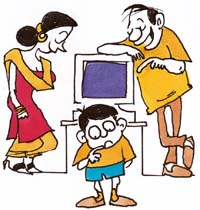 Don't waste money, Chintoo. Log on to firecrackers.com instead
Making visually impaired 'see'
Scott R. Burnell
A simple touch display for the visually impaired, to be tested by the National Federation of the Blind, soon could provide access to computer-generated images, federal researchers have said. The device comes from the National Institute of Standards and Technology, which also is well along in the creation of a reader to turn electronic text into Braille letters, said Sam Bodman, deputy secretary of commerce.

Forced to face cellphone music
Gaurav Sood
A few days ago when Pandit Hari Prasad Chaurasia and Shubha Mudgal were rendering music of classical kind on two different occasions, music lovers were also forced to act as captive audience for music of a different kind. That of ring tones emanating from the cellphones of those who were not courteous enough to switch it off before the concert.

Travel grows fastest via Net
TRAVEL has emerged as the fastest growing category for Internet shopping in India, accounting for 23 per cent of total consumer spending on the Net this year, a survey report said. The travel related Internet shopping is expected to grow at a phenomenal rate of 140 per cent over 4 to 5 years with Indian Railways and domestic airlines launching online sale of tickets, said the International Data Corp (IDC) report.

Tips and tricks for Windows
Amitpal Singh Grewal
Put name on Windows
Did your PC come with Windows '98 preinstalled or you just want your name on the computer .You can do it through this trick: