SCIENCE & TECHNOLOGY CROSSWORD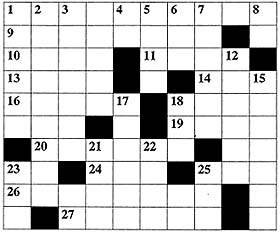 Clues
Across:
1. Tetrahedron with eight flat sides.
9. A chemically active substance.
10. Naturally occurring crystalline Potassium Aluminium compound.
11. A centre setup by IISc Bangalore to offer awareness abstracts in science and technology.
13. A board formed by USA to monitor National labour relations.
14. An electronically charged atom.
16. ……coat of paint is applied to identify weak patches to be attended.
18. ……enzyme remains within a living cell and doesn't diffuse through the cell wall.
19. …..glass contains 90% gelatin and is made from swimming bladders of fish.
20. Swollen state of tissue in body.
23. Short for Plasticity Index.
24. Eggs of mammal, fish or insects.
25. Tapered pin or bolt of wood or iron.
26. A kind of rain gauge.
27. ……petal is the force acting on a body moving in a circular path.
Down:
1. Colour having wave-length in the range 580-610 NM.
2. A thermoplastic material made from cellulose nitrate and camphor.
3. A white crystalline substance obtained from the bile of mammals.
4. Abbr. for high tension power potential.
5. A slum environment improvement scheme started in the Capital.
6. A multipurpose project in Damodar. (abbr.)
7. Amorphous organic compounds secreted by plants and insects.
8. Symbol for Nickel.
12. A very volatile violet vapour element.
15. Plane figure with nine sides and angles.
17. Cycle of occurrence of sun-spots is completed in so many years.
18. Common abbreviation for asthma occurring after 6 to 12 minutes of strenuous activity.
21. Round roof used in many of our monuments.
22. Dull, not lustrous popular finish.
23. Dwarf breed of dog with broad flat nose and wrinkled face.
Solution to last week's Crossword: