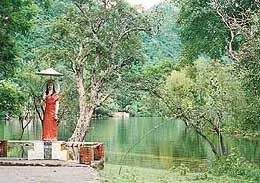 A view of Renuka Lake
Legend also has it that Renuka like a devoted wife fetched water from the Giri river every day for Jamadagni. One day she saw a Gandharva couple bathing in water. Renuka kept watching them and therefore reached the ashram late. A suspicion arose in Jamadagniís mind regarding her fidelity and in a fit of anger he ordered his sons to kill her. All the sons except Parsuram refused to do so. Parsuram slayed his mother. Jamadagni was pleased with his sonís devotion and offered to grant him any boon. Parsuram quickly asked for restoration of his motherís life and thus Renuka came back to life.
Lord Parsuram now wanted to go back to Badrika mountains for his meditation. Renuka allowed him to go but asked him to visit her at least once a year. Lord Parsuram agreed to visit his mother every year on Kartik Ekadashi. It is believed that he still visits his mother every year on Kartik Ekadashi, which is now celebrated by holding a fair at Renuka. For the Sirmouris, this fair is no less significant than the Kumbh fair.
People from all over Sirmour, particularly from trans-Giri region, throng the fair. Local visitors set up temporary hearths for cooking their food. They pass their nights under the sky, singing and dancing. Beside the coming up of a big bazaar at the site, cultural performances are held to entertain the visitors.
A great attraction of the fair is Shobha Yatra. The brass idol of Lord Parsuram is brought from Jamu village in a silver palanquin. Similarly, the other deities of surrounding villages are also brought in their respective palanquins. All the deities are brought together at Dadahu, from where a religious procession goes to the temple of Lord Parsuram, where deities remain till the conclusion of the fair.
Both Renuka Lake and Parsuram Tal provide excellent boating facilities. The parikrama path of about 2.4 km., passing through a thicket, offers a beautiful trek. The forest around has been declared a wildlife sanctuary. A mini-zoo is an added attraction situated on the parikrama path. One has an opportunity to see lions from a close distance. Near the foot of the lake is a place called Sahasradhara. Numerous tiny streams flow from between the rocks and provide a bewitching spectacle. The droplets of water sparkle in the sun and combine to form a spring, which is used by pilgrims for drinking water.
It is believed that a havana was performed by Lord Parsuram after Sahasravaha was killed at the spot where the tal is now located. A holy dip in Parsuram Tal is considered very beneficial for barren women. Circular in shape and brimming with water, the tal looks very beautiful.
Killing of fish is banned here. Pilgrims feed them with balls of flour, which are available for a price. The fish and tortoise swim on to the ghats; have their fill of flour balls and then leisurely swim back to the depths of lake.
Separate bathing ghats for men and women have been built all along the parikrama path where people take a holy dip. Bathing in the lake on the day of Kartik Ekadashi is considered to be of great religious merit and is said to purge one of all sins.
An HPTDC Hotel and rest houses built by the PWD, Renuka Development Board and the Forest Department come handy for tourists. There is a big temple complex on the parikrama path near the HPTDC Hotel, which also offers a serai.
Be they nature lovers or spiritual or religious people, Renuka has something special for all kinds of visitors.