ree talk
Small, but potent
K. L. Noatay
ASPARAGUS, or Sahansarmuli, is a small statured and yet interesting plant. It grows on its own in the wild all over India and beyond. Being effective in healing a number of human and animal ailments, it is of tremendous utility to mankind since time immemorial.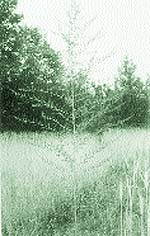 The Government of India has recently launched a drive for cultivation of medicinal herbs. It notified a list of 16 important herbs and plants that farmers can raise under state patronage with subsidies for the internal market as well as export. Asparagus happens to be at serial number two of this notification.
Literally speaking, asparagus is the scientific (Latin) name for the genus of some seven small herbs comprising the plant family Liliaceae, growing naturally and in the wild all over the Indian subcontinent from 300 to 1500 m above mean sea level. Of these, Asparagus racemosus is the most prominent in size as well as medicinal value.
Sahansarmuli is a 1 to 1.5-metre high perennial herb that's upright like a miniature Christmas tree. Its upper leafy half is like a typical pyramid. It is a much-branched plant having a woody terete (section circular) stem and needle-like yellowish green foliage. The main stem is thumb-thick at ground level. Some of its vernacular names other than sahansarmuli are shatawari, shatamuli, shatavar, sahanspal, and sainsarbuti. In North India asparagus is found growing sporadically in the Shivaliks of Dehradun, Ambala, Una, Chamba, Bilaspur, Hamirpur, Kangra, Kullu, Solan, etc. Its natural habitat starts from China and goes over India, Afghanistan and beyond.
Asparagus has small and sharp spines. These are stout, straight and densely crowded. Its leaves are small and light green in colour. Asparagus flowers two to three times in a year. The inflorescence appearing during August to November, however, has better medicinal value. Arranged in the form of cuprous racemes, individual flowers are branched and yet simple. These are small, white and mildly fragrant.
The asparagus plant fruits during December-January. The fruit is globose and measures nearly 0.8 cm along the diameter. Composition-wise these are 3 lobed berries having one seed in each lobe.
Fresh shoots of sahansarmuli are succulent. These make excellent dishes in the hands of expert cooks. It is, therefore, no wonder that knowledgeable Indians regard asparagus as a sacred plant. It is considered especially auspicious for decorating the "toaran (a ceremonial gate temporarily raised on the outer limit of a household / premises)."
So far as its medicinal value is concerned, the tuberous root of asparagus contains multi-utility asparagine, saponin, etc. The herb is used as such in preparing a number of ayurvedic and Unani medicines, named in trade as shatavarighrita, Narayana taila, Vishnu taila, satamulyadiloha, shatavaripanak, etc. In ordinary culinary practice, dishes made of asparagus leaves or root act as appetiser, diuretic, aphrodisiac, laxative as well as astringent. The preparations are supposed to be helpful against diarrhoea, leprosy, throat cancer, etc. These are also added to the diet for nursing mothers. Crushed roots if taken in hot milk are believed to enhance libido, vitality and hormonal strength. It is also an important ingredient of certain medicines prescribed for lessening fatigue, senility, pruritus, etc.
The asparagus fruit is edible. It contains B-sitosterol, sarsarapogenin, eliosgenin, etc. Accordingly, depending upon the finesse with which asparagus roots are collected, dried and stored, these can fetch something like Rs 70 to 100 per kg. However, in the absence of awareness on the subject amongst agriculturists as well as traders, most farmers feed the green plant and its roots to milch cattle. That increases the milk yield. In economical cultivation this plant does best in a well-drained, sandy loam soil. Liberal use of fertiliser enhances the yield. The species can be propagated both by sowing the seed directly in the field or raising a nursery and then transplanting, and even by planting root suckers. It can be grown profitably on slopes less favourable for other crops. Frequent watering can ensure better survival and yield. Transplanting of the nursery stock is best done during monsoon.
So far as provision of state subsidy for cultivating asparagus and guidance to cultivators for marketing the yield are concerned, medicinal plants and herbs boards have been instituted at the Union Capital as well as state headquarters, generally under the Ayurveda Ministry, that can be contacted.