Body talk
Why women are plagued by headaches
Why are women more susceptible to headaches than men? Contrary to early belief, this gender imbalance in headaches is not due to differing personality traits or societal standards. Rather, headaches are an unfortunate side effect of that essential female hormone, estrogen, says Kavita Devgan.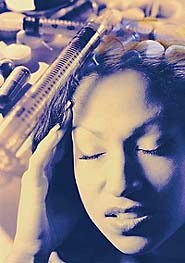 Hormonal imbalances can often translate into headaches
A headache is usually referred to as 'a problem as old as man'. But, ironically, women suffer them more. According to womenshealth.com, a substantial "18 per cent of women experience migraine, as compared with 6 per cent of men". Simply put, women are three times more likely than men to develop a headache. In America alone, 23 million suffer from migraine, of which nearly 18 million are women; the scenario is similar in most other parts of the world.
"Until puberty, boys and girls are equally likely to have a headache. After puberty, female headache sufferers outnumber males. And their headaches are on an average more frequent and more severe than those experienced by men," states The American Council for Headache Education (ACHE).
Thanks to the new groundbreaking research on headaches the stale old joke about women, "Not tonight, dear, I've got a headache...." is now finally understood as simply a joke. "Headaches are not just in the head of a woman, or psychological or "hysterical" in nature, they are a real medical condition caused by real biological factors that need to be treated," says Indu Sharma, a general physician.
So, why are women more susceptible to headaches than men? Contrary to early belief, this gender imbalance in headaches is not due to differing personality traits or societal standards. Rather, headaches are an unfortunate side effect of that essential female hormone, estrogen. "Women don't get more migraines than men because women are more emotional and easier to upset," state Christine Adamec and neurologist Christina Peterson in their book The Women's Migraine Survival Guide: The most complete, up-to-date resource on the causes of your migraine pain - and treatments for real relief'.
Differences in hormones and genes and their effect on brain bio-chemicals probably account for the higher incidence of headaches among women. Hormonal changes that occur with puberty, the menstrual cycle, pregnancy, childbirth, breastfeeding and menopause are known to affect or trigger headaches.
"The genes that predispose people to developing headaches are probably equally present in men and women; whether or not they get expressed has a great deal to do with whether cycling hormones are around," explains Elizabeth Loder, director of the Headache Management Programme at Spaulding Rehabilitation Hospital in Boston.
While the primary role of estrogen is to maintain the female reproductive cycle, the hormone has access to virtually all tissues of the body and exerts widespread effect, particularly on the brain. Estrogen can directly influence nerve cells, alter brain chemicals, and affect blood vessels inside the head.
"Hormonal imbalances translating into headaches is actually very common," says Mridula Chichra, a Delhi-based gynaecologist. According to her, most women with menstrual migraine do not necessarily have hormonal abnormalities. "Rather, they have a biological predisposition to migraine, and the normal changes in hormones over the cycle serve as a trigger. Shortly before and during menstruation, the blood levels of estrogen drop significantly and this results in blood vessels dilation in the head with headaches."
When estrogen levels are low, the levels of serotonin also dip; low serotonin promotes headaches, perhaps by reducing the effectiveness of endorphins or the natural painkillers. Some women also experience migraine at ovulation—about mid-cycle—when the estrogen level drops. General Pre Menstrual Therapies (PMS) recommend that alcohol be avoided, and the level of blood sugar be stabilised. Women on oral contraceptives (OCs) or Hormone Replacement Therapy (HRT) are more likely to develop headaches during the time of the month when they are taken off estrogen. How OCs influence migraine is still unknown but because of the relationship between estrogen levels and migraine, OCs may have a significant impact on women. It has been observed that some women with severe migraine get better because of the regulation of the menstrual cycle and a stabilisation of hormonal fluctuations. At other times, women who have never suffered from migraine develop it as its side effect of OCs.
Therefore, women who suffer migraine and suspect OCs to be a trigger should use non-hormonal methods of birth control, at least until the headaches are controlled, or it is relatively certain that the OCs are not a contributing factor.
The peak occurrence of migraine in women is during the childbearing years. During pregnancy, migraine improves in 70 percent of women; in others it can begin, or worsen. Headaches sometimes return after a woman has given birth; again, changing estrogen levels may be to blame. Managing migraine during pregnancy and breastfeeding can be problematic, says Chichra. "Generally non-drug treatment is preferred. Avoidance of triggers, especially dietary ones, helps. Exercise, biofeedback and other relaxation techniques are good options."
Fluctuating hormones can also lead to headaches before or during menopause, along with the usual symptoms—hot flushes, night-sweats, insomnia, or irritability. And women who have had their ovaries removed are more likely to suffer migraine, or suffer worse headaches. However, once a woman is through the perimenopausal years and into menopause, the hormone levels stabilise and usually migraine improves. Cases of headaches related to menopause—before or during—are best managed through individual consultations with your doctor. Significantly, following natural menopause, there is a reported 60 per cent decrease in headaches.
There are many other factors to headaches among women. But, as Sharma explains, headache triggers do not 'cause' a headache. Instead, triggers activate or bring on a headache in a headache-prone person. The lack of sleep, altered sleep-wake cycles, and general stress are also common triggers. Others include environmental factors and weather patterns - heat, humidity, sudden changes in barometric pressure, dust, smoke, glare and strong odours. Women are particularly prone to insomnia and the headaches brought about by insufficient sleep.
And then there are food triggers too. Stress is by far the most common headache trigger. Refuting earlier suggestions that headaches are related to a particular personality pattern, researchers have now collected over 200 scientific studies examining the personality and behaviour of headache sufferers. These prove that there is no good evidence for a particular headache-prone personality.
Headache sufferers however, tend to have increased daily stress, more difficulty in coping with stress, and more mild symptoms of depression.
Probably, this explains the highest prevalence for migraine in women between the ages of 35 and 45, when many women are at the height of their professional career, family responsibilities, and social life. "Women often overextend themselves, juggling many different roles and responsibilities, which leads to stress", says Omesh Kashyap, a senior consultant psychiatrist at the Vidya Sagar Institute of Mental Health and Neurosurgery (VIMHANS), Delhi. While the impact of headaches on people's lives cannot be underestimated, or the need for careful medical evaluation and treatment ignored wherever appropriate, women - and men - can certainly take the first important step. Says Dr Kashyap, "Educate yourself about the headache, its causes and treatment and then make informed decisions about the kind of treatment that will work best for you."