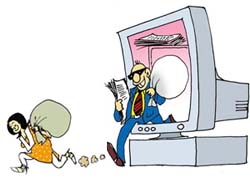 Stealing ideas online
Peeyush Agnihotri
IMAGINE how would you feel if someone were to palm off something as his that belonged to you? Distressed, annoyed, cheated, infuriated or exasperated? Or all at once. Blame the WWW for all this, though those accused of plagiarism might say plainly that they took it from the Net, and thus itís not plagiarism. This, however, is no answer. Plagiarism is plagiarism, whether copying is done manually or electronically. It is wrong and on the rise.



Patents virtual minefields
INDIA should avoid the "minefield" of introducing patents in software, cautions an American expert who is a strong advocate of free and open source software. "Software patents is a very critical issue and I understand the Indian Parliament is considering whether to allow it," Free Software Foundation head Richard Matthew Stallman said at a meeting.

Boss isnít around, his spy software is
Annett Klimpel
WHAT are workers really doing during working hours? For bosses who have dreamt of having total control over their workers, knowing their every move, the introduction of specialised snooping programs may be the answer. Software such as Orvell Monitoring 2002, for example, lets a manager see not only every Website visited and every e-mail received or sent, but also reveals every application that is opened and every key tapped. Contributions in chatrooms are there for reviewing, as are passwords.

Refill, or else cartridges may burn hole in your pocket
Jasjot Singh Narula
CONGRATULATION! You have purchased a new PC with the latest printer. Sounds great, but when you run out of your printer cartridge or toner you rush to the market for a new one and get a shock of your life to see the price of Rs1,400 for colour ink cartridges and Rs 1,390 for black. These days a printer costs somewhere around Rs 4700 to 5000 whereas the printer cartridges cost around 2800 to 3000 (for both black and colour). The gist is that go two times to purchase new cartridges and you might end up paying more than the cost of the printer itself.

Tablet adds ink into the mix
Vibhor Sood
REVOLUTION is a way of life. When it comes to software, most of them come from Bill Gates who has changed personal computing, entirely. Recently, Gates announced the launch of Windows XP tablet edition for Tablet PC.

CITy Beautiful
Vivek Attrey
CHANDIGARH is poised to take off as the technology hub of the region. The inherent qualities of the City Beautiful that make it an ideal city for the knowledge-based industry, are increasingly being recognised. Micropolitan is a word, which is now increasingly being used for Chandigarh. A city, which has all advantages of metros, minus problems like pollution, overcrowding and large, commuting distance.

Curry-flavoured MS Office tools
Frederick Noronha
IT looks like Word but itís in Tamil. You could do spreadsheet work in this software, and it works in Hindi. Thanks to the initiative of a young and medium-sized firm in South India, affordable office-based computing solutions are finding their way to Indian-language computer users.
IT WIT
by Sandeep Joshi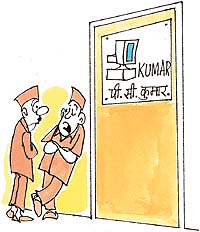 This IT-savvy officer has joined today.

The King is coming, Disney gang make way
Lola Nayar
THE fantastic adventures of a young boy named King are coming alive in an animation studio on the outskirts of the Indian capital. The 26-episode animation serial King, a co-production of Canadian animation firms Decode and Funbags, has been commissioned to Indian company Escotoonz, the animation wing of Escosoft Technologies of the Escorts Group.

Microsoft values them & region is proud of them
HE'S 23. Heís a certified nerd and now heís one of the 33 Indians felicitated by Microsoft with the Most Valued Professional (MVP) Award. And heís the only one from the whole region to have achieved it this year. Thatís Gaurav ĎPC Cleaní Khanna, a son of Chandigarh-based communication engineering professor. A product of DAV institutions, Gauravís ambition was to be a pilot that later evolved into fiddling with silicon. He has a number of successful software under his belt, the most famous being PC Clean, an anti-virus software.

Educational institutes to go hi-tech
V.P. Prabhakar
THERE has been a change in the learning pattern due to the introduction of technology and newer methods of imparting education. New technologies are being gradually integrated into learning environment for efficient teaching, upgradation of skills of teachers and students.