16 intruders gunned down
Bandipore blast leaves 2 dead
Tribune News Service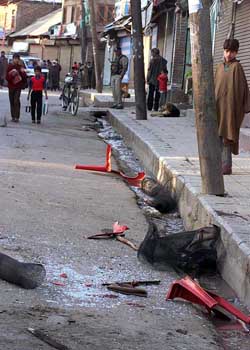 People walk near the site of a landmine explosion at Bandipora, 57 km north of Srinagar, on Tuesday. A security force jawan and a civilian were killed and seven others, including five police personnel, were injured in the explosion, a paramilitary official said. — Reuters photo
Jammu/Srinagar, November 19
At least 16 intruders were killed today in two separate operations by the security forces in Jammu sector.
Defence Ministry officials said Indian troops killed six infiltrators who had intruded from across the border in the Balakot area of Mendhar in Poonch district.
The troops spotted some movement on the LoC and the rebels were asked to halt. The militants opened fire which was retaliated. In the exchange of fire, six infiltrators and one Army Captain were killed. Large quantities of arms and ammunition were recovered from the militants.
In another operation, the border guards killed 10 infiltrators in Ramgarh sector on the border.
The police said the infiltrators had crossed the border from across Ramgarh. The moment they entered the Indian territory they were gunned down by the security forces.
Their identity was being ascertained and there is a possibility that the infiltrators were from Bangladesh.
Meanwhile, a security force jawan and a civilian were killed and seven others, including five police personnel, were injured in an explosion at Bandipore in Baramula district of north Kashmir this afternoon. The blast took place in close proximity of a suspicious object that was being inspected by the bomb disposal squad of the police near the main mosque in Bandipore town.
At least seven pedestrians were injured when unidentified gunmen hurled a grenade towards a vehicle of the ITBP at Qazigund, about 70 km from here, on the Srinagar-Jammu National Highway. The grenade missed the intended target and exploded on the road causing injuries to seven civilians.
Unidentified militants shot dead Rafiqa, wife of Mohammad Ashraf Bhat, in her house at Barsoo in the Ganderbal area of Srinagar district last evening.