Wednesday, November 20, 2002, Chandigarh, India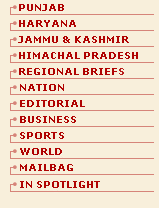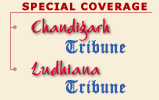 M A I N N E W S
WITH THE JATHA IN PAK
Leaders skip siropa exchange
Varinder Walia
Nankana Sahib, November 19
Giving clear indications that they do not accept the authority of the Pakistan Sikh Gurdwara Prabandhak Committee (PSGPC), the leader and the deputy leader of the SGPC jatha refused to exchange siropas (robes of honour) at a religious function held at the birth place of Guru Nanak Dev here today.
The annual celebrations marked 533rd birth anniversary of Guru Nanak Dev. Though Mr Alwinder Paul Singh Pakhoke and Mr Bhupinder Singh leader and deputy leader of the jatha, respectively, were present at the religious stage, they quietly walked out minutes before the beginning of the ceremony.
However, in his significant speech, Brig Yasub Ali Khan Dogar, Adviser to Punjab Government on Religious Affairs, announced that the Government of Pakistan was ready to grant visas to Sikh pilgrims at the Wagha joint check post, so that they could pay obeisance at Sikh shrines in Pakistan whenever they wanted.
However, radical Sikhs, including Dr Gurmit Singh Aulakh, president of the Khalistan Council, Mr Manmohan Singh Khalsa, senior leader of the Dal Khalsa, Dr Ganga Singh Dhillon, president, Nankana Sahib Foundation, and Mr Sham Singh, co-chairman, PSGPC, advocated the demand of a separate Sikh state while addressing the sangat. Mr Aulakh asked the sangat to raise slogans like "Khalistan Zindabad". However, Dr Dhillon while advocating the demand of self-determination for Sikhs, told TNS that his foundation won't allow gurdwaras to become centre of politics.
Lieut-Gen Naem Akbar, chairman, PSGPC, and a galaxy of leaders from various parts of the world were honoured.
Later, a colourful nagar kirtan was taken out from Gurdwara Janam Asthan, Nankana Sahib. It passed through various lanes and bylanes of the town. The SGPC, however, took active part in the kirtan.