Mountaineers feel let down
Sarbjit Dhaliwal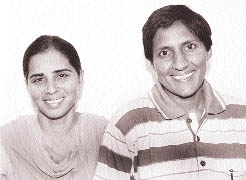 Paramjit Kaur (left) and Sukhwinder Kaur
NEVER believe a politician especially when he is in power. This is what two brave girls — Sukhwinder Kaur Sukhi and Paramjit Kaur — of Punjab have learnt over the past four years. These girls belong to Muktsar, home district of former Chief Minister, Parkash Singh Badal. They not only opened a new chapter in adventure sports, but also achieved distinction in the most difficult area of mountaineering.
In fact, Sukhwinder is popular as 'Bachendari Pal' of Punjab. However, they remain jobless in their home state, which otherwise has given jobs to hundreds from other states.
Both had a bitter experience with Mr Badal, who, as Chief Minister, had assured them of respectable "government jobs while praising their achievements.
"We went to Mr Badal's house several times when he was Chief Minister. Every time, he sent us back by assuring us that appointment letters were on the way. However, the appointment letters have not reached us", they said with a heavy heart.
Sukhwinder Kaur, who did a rock climbing course in basic and advance mountaineering from Manali achieved the distinction of climbing Mount Kamet, the third highest peak with a height of 25,650 feet in 1998. Mount Kamet is among the most difficult peaks to climb as a lot of technical skill is required to be on top. Moreover, she was not assisted by any paramilitary group. In July 2002, accompanied by Parmjit Kaur, Sukhwinder also sealed Saser Kangri, reportedly the highest peak (over 23,000 feet) in western Karakoram region. This peak is also among the most difficult ones and has claimed the lives of BSF and other professional climbers. "For us it was almost a death defying experience as there were big glaciers all around", said the duo.
The duo plans to scale Mount Everest next year and is looking for sponsors. They have won many awards, colours and medals. "These pieces of paper are useless until the government gives us suitable jobs. We approached the police authorities concerned but they also turned their backs on us. We have also met the Punjab Governor but his response was also cold."
They rarely sit at home. In August 2000, they travelled on a bicycle from Muktsar to Khardung-la Pass at a height of 18,380 feet covering 1250 km in 21 days. In plains, we used to cover about 100 to 120 km but in hilly terrain about 35 km.
Interestingly, most of their adventure activities are financed by non governmental organisations of Muktsar area.