The raga-based compositions have been arranged with elements of world music and forms of contemporary orchestration. For instance, Taskeen … (Main chhanv chhanv chala tha apna badan bachakar/ ke rooh ko ek khoobsoorat sa jism de doon …) is accompanied by a composition in Raga Yaman with soul-stirring alaaps. Warm symphonic strings, cellos, brass, Indian violins and flutes play to the seven-beat Roopak rhythm. There are eight such creations in all. Recording values are excellent.
Sadma Bewafa Ka
(TIPS)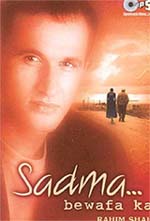 Rahim Shah, younger brother of Ustad Salman Alvi, has an impressive voice. But he has been done in by insipid lyrics in this album. This weakness is particularly glaring in the opener Tap tap …, which has also been converted into a video track.
This is supposed to be a collection of "sentimental songs" but many of them are more fit for the dance floor. In fact, even the memorable Ye dil ye pagal dil mera kyoon bujh gaya deewangi, made immortal by Ghulam Ali, has been converted into a fast number with dhol beats.
Original songs by Rahim fare better. He is also the music composer.
Yaari Jaan Ton Pyari
(HMV)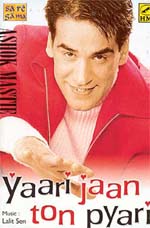 The singing style of Ashok Mastie bears a faint resemblance to that of Mahendra Kapoor. The "in mood" singing of his is ideally suited for the typical Punjabi numbers. Not only his voice but also the lyrics that he chooses are conventional and true to the roots. There is the traditional Mehndi … as well as Mundri .…."
The title song penned by Palli Singh reverberates with raw energy. Do kurriyyan by Devinder Khannewala speaks of romance not with one but two girls.
These fun songs have been composed by Lalit Sen. Besides the writers mentioned so far, three songs have been written by Sanjeev Anand and one by Nirmal Deol.
Shyam Sanware
(T-series)
Panchkula-based Muktesh Diwan is quite a hit at local religious functions with his singing. He has now cut the first album of his bhajans devoted to Lord Krishna.
He shows good voice control, which he attributes to his regular Yoga and Pranayama. Whether it is the traditional Chalo man Ganga-Jamuna teer … or the new bhajans written by D.R. Dhawan, he leaves a good impression.
The music is by Varinder Bachan.