Women leaders even today continue to hold Aruna Asaf Ali not only as a role model but also as a leading light. The person who is leading this procession of Punjab Istri Sabha leaders is none other than Vimla Dang. Following in her footsteps are Shiela Didi, Oshima Reikhy, Urmila Anand, Mohinder Sambar, Jaswant Kaur, Hakim Devi and Bir Kalsi. They even formed the Aruna Asaf Ali Memorial Trust, a charitable institution, to spread her ideals. These women already work for the Punjab Istri Sabha Relief Trust. This had started with a corpus fund of Rs 8.94 lakh in 1989. It eventually raised its resources to Rs 47.71 lakh by 1996-97. Out of this corpus Rs 26.48 lakh was disbursed to the Dabwali fire victims.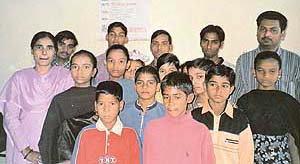 Students of the Child Labour Study Centre at Amritsar with their teachers

In 1998, the Trust also started to give 100 stipends in Aruna Asaf Ali's name to needy primary school students studying in government or local bodies' schools in Punjab or Chandigarh. Each selected student is given Rs 1,200 per annum.
In 1997, the Trust started as many as four Child Labour Study Centres for the benefit of children working in tea shops, dhabas, brick kilns, factories, fields, leather and boot polish shops, and as domestic help. All these children were required to put in just two hours daily at the Centre. The Sabha persuaded the employers and guardians to spare the children for those two hours without cutting their salaries. Children 14 years and below are eligible to join the Centre. An honorarium of Rs 50 per child is paid to the teacher.
The first such Study Centre was opened in Government Senior Secondary School, Chheharata, Amritsar, with 14 children. Soon the strength increased to 18. All of them passed Class V exam this year. More children are getting motivated to join the Centre. The second Centre was started at Beas, Amritsar, on June 7, 1997. This Centre was run by Raj Verma, Vice-President of the Punjab Istri Sabha, with the help of sarpanch Sham Lal. The students in this Centre were given sweaters, shoes, notebooks and even blankets. The children are taught Punjabi, Maths and English, besides being given basic knowledge of other subjects. The teachers of government schools were motivated to spare two hours for these children. The third Centre was set up in Government High School, Sector 28, Chandigarh, with 10 children, five boys and five girls, on January 20, 1998. The Punjab Istri Sabha activists had met the mothers of the selected children to inspire them to allow their wards to study at the Centre. They told them that in the long run it would benefit their children. The children were provided with uniforms, shoes and notebooks. All these 10 children have completed primary education.
The fourth Child Labour Centre was opened on March 13, 1998, at the Phase X Guru Nanak Colony Primary School in SAS Nagar with just eight girls and two boys. All these students are working as domestic servants. A JBT lady teacher named Vijay agreed to spare two hours to teach them Punjabi and Maths. Later, five more children and a teacher joined the Centre and English subject was also added.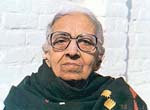 The Aruna Asaf Ali Trust, meanwhile, has been allotted a small piece of land in Chandigarh. Even though the price of this land is reserved yet it is still too high for the Trust to pay. The Trust is looking for donors who can come forward to help the Trust. I have often come across people who have donated crores of rupees or property worth the same in the name of religion. One hopes that somebody will come forward to donate in cash or kind to Trusts like that of Aruna Asaf Ali or the Punjab Istri Sabha. I was amazed how Vimla Dang, despite her age and fragile body, still continued to sit from 9 am to 1pm every day to listen to the grievances of the people. Driven with the passion of taking everything to its logical conclusion, she refuses to offer lip service alone. Whether it is the battle of a mother fighting for the custody of her child who has been snatched away by her husband and in-laws, or a case of child labourers or a marital dispute, Vimla Dang goes into the details of each and every case. Undaunted by the load of work, she goes on despite the fact that she has to wear a hearing aid in both her ears. It is ironical that though most of us can hear correctly yet we are deaf to the woes of fellow human beings.