Sunday, November 24, 2002, Chandigarh, India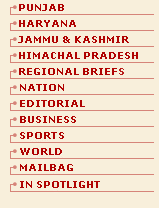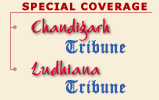 M A I N N E W S

Vote out communalism, says Sonia Gandhi
Cong govts told to take care of ex-servicemen
Tribune News Service

Chandigarh, November 23
The AICC President, Ms Sonia Gandhi, today warned the nation against nefarious designs of fundamental and communal forces out to disintegrate India's social fabric and called upon all secular and patriotic forces to thwart such attempts.

Addressing an impressive North Zone convention of ex-servicemen, she said despite a conspiracy by such disruptive elements, the communal virus had not spread out into the country from Gujarat. Now it was time to give a crushing blow to such forces in the forthcoming Assembly elections.

Ms Gandhi resorted to BJP-led NDA bashing, charging that it had mis-governed all these three years and failed on all fronts with its promises sounding hollow. ''What can be expected from a government that thrived on 'Tehlka and tabooz', meaning, thereby, taking cuts and commissions in procurement of defence equipment and even coffers for the jawans, who died in Kargil? Of what use is such a government that has failed to mitigate the suffering of the common man or make his life a little more easy or give relief to ordinary citizens or frame a policy for the youth, who hold the key to India's future development''? she asked and went on to speak about the rampant corruption in the BJP-led government and its attempts to paint Indian society and culture saffron. She exhorted the ex-servicemen that in the next Assembly elections in Himachal Pradesh and Gujarat such governments must be shown the door.

Turning to the problems of ex-servicemen, she said no attention had been paid to the welfare of the families of martyrs or widows or children or disabled jawans. A 'sainik' whether in or out of uniform remains a disciplined soldier all his life. The need of the hour is to emulate his way of observing 'maryada' while doing ones duty with devotion. The Congress party leaders and workers have much to learn from the 'sainik'. She thanked the jawans for voting for the Congress in the past and hoped she could bank on their vote and support in future as well.

In the series of such zonal conventions, today's was the

81st. Ex-servicemen were brought from Punjab, Haryana, Himachal Pradesh, Uttar Pradesh, Uttaranchal and Chandigarh. A brief introduction on the purpose and achievements of the AICC ex-servicemen cell, was given by its chairman, Lt-Gen. M.M. Lakhera. The primary purpose of such conventions, he said, was two-fold, one, to bring ex-servicemen to the Congress fold and fight for the cause of communal amity and secularism and two, promote welfare of ex-servicemen, their families and war widows through the Ministry of Defence.

Among those who spoke was Ms Moshina Kidwai and Capt. Amarinder Singh. He identified himself as one of them being himself an ex-serviceman and went on to explain what his government proposed to do for them. He assured that all ex-servicemen would get due "respect'' in all offices and any aberration that hurt their "self-respect and dignity'' would be taken seriously.

He presented a shawl and a sword to Ms Sonia Gandhi. She also made token presentation of a blanket on behalf of Punjab to Himachal Pradesh's Vidya Stokes as part of a consignment of truck load of blankets for the jawans out on the hills.

Ms Sonia Gandhi also honoured family members of those heroes who were awarded either Victoria Cross or Param Vir Chakra. They were each given a shawl and Rs 1 lakh.

The recipients were family members of Lt-Karamjit Singh (Judge) and Sub-Major and Hon Capt Gian Singh, both had won Victoria Cross, Hon Capt Joginder Singh, PVC, Capt Karam Singh, PVC, Capt Gurbachan Singh Salaria, PVC, Flying Officer, Nirmaljit Singh Sekhon, PVC, Nb Sub Nand Singh, MVC and VC. No one turned up from the family of Major Parkash Singh, VC.