Sunday, November 24, 2002



Chhote miyan, badi dulhan
Chetna Banerjee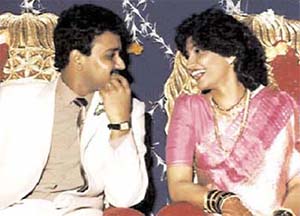 WHEN she may have taken her first step into kindergarten, he may just have been a tiny bundle, barely able to roll over in his crib. When she may have graduated to wearing frilly frocks and fancy ribbons, he may still have been sporting diapers. When she may have progressed to reading Enid Blytons, he may just have begun mouthing Baba black sheep or he may not even have arrived on Planet Earth by then!
Magical Ďthread gardení of Ooty
Amar Chandel
WHEN Rock Garden was being set up, who would have thought that some day it would become the most famous landmark of Chandigarh known not only in India but all over the world? A similar miracle has taken place in the hill station of Ooty and, most probably, the southern queen of the hills will become even more famous for its "thread garden".
Keep allergies at bay
H. K. Kharbanda
IT has become a part of your life ó those recurring sniffles. Cold medications havenít worked, nor have grandmaís age-old remedies. You worry about the crucial presentation you have to do the next morning and try to wave the cold away with a quick-fix capsule. At times such conditions could be due to an allergy. The skin, eyes, nose, throat, lungs, gastrointestinal tract, almost every organ of body is prone to allergy.
Suspense propels this tale
Ervell E. Menezes
WHEN a body is rescued at sea and the man (finally alive) doesnít remember his identity it is ideal stuff for a spy film. And when this fugitive on the run meets up with an equally enigmatic female the fare is doubly suspenseful. Thatís the recipe then of The Bourne Identity, the quintessential spy thriller based on a Robert Ludlum novel.