Raghunath Temple attacked, 12 dead
S.P. Sharma and M.L. Kak


Fact file
* Simultaneous attack on Shiv Temple
* PM reviews situation
* Lashkar men behind attack: DGP
* 2 securitymen, one terrorist among dead
* Curfew imposed in Jammu
* Call for Jammu bandh today

Jammu, November 24
Heavily armed Lashkar-e-Toiba militants stormed the historic Raghunath Temple tonight when it was packed with devotees, killing at least 12 persons, including four women and two securitymen, and injuring around 50 others, some of them seriously, in the second attack on the shrine this year.
As tension gripped the city following the attack, the authorities imposed a curfew till tomorrow evening and deployed police and paramilitary forces in sensitive areas to maintain law and order.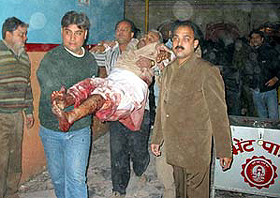 Volunteers carry the body of a pilgrim out of a temple in Jammu on Sunday. — Reuters photo
The Director-General of Police, Mr A.K. Suri, said the militants belonged to a suicide squad of the Pakistan-based militant outfit Lashkar-e-Toiba.
This is for the second time during the year that terrorists have attacked Raghunath Temple. The earlier attack took place on March 30.
Among those killed was a CRPF troop and a state policeman.
Immediately after the strike, the security forces cordoned off Raghunath Temple and after nearly three hours of a fierce gunbattle, one militant holed up in the temple was shot dead, but till late in the night, a heavy exchange of fire was on with one or two terrorists entrenched in the Shiv temple, about 300 metres away from the main shrine.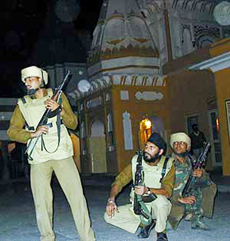 Securitymen take positions outside Raghunath Temple in Jammu on Sunday. — Reuters photo
Militants lobbing grenades and firing indiscriminately struck at the 150-year old Raghunath Temple around 7 pm when it was packed with devotees.
Commandos of the National Security Guards (NSG) were rushed from their camp at Manesar in Haryana to the Delhi airport to be airlifted to Jammu, but after the encounter at Raghunath Temple was over, the government decided against their departure.
In Delhi, Prime Minister Atal Behari Vajpayee reviewed the situation with his senior Cabinet colleagues.
The state units of the BJP and the Shiv Sena have called for a Jammu bandh tomorrow to protest the attack.