M A I N N E W S
Temple terror ends
2nd ultra shot after 5-hr gunbattle
Tribune News Service And Agencies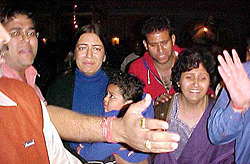 Panicking and confused temple visitors rush to safety as militants attacked Raghunath Temple in Jammu on Sunday. — PTI photo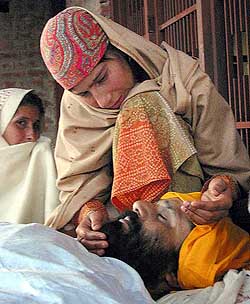 Relatives of policeman Balwinder Singh mourn beside his body in Jammu on Monday. Balwinder Singh was killed fighting gunmen in the temple attack. — Reuters photo

Jammu, November 25
The drama of terror which began last evening when a two-member terrorist squad of the Lashkar-e-Toiba (LeT) attacked Raghunath Temple and the nearby Shiv temple, ended this morning with the security forces killing both of them after a 12-hour gunbattle on the two temple premises.
The attack left 13 persons, including two ultras and a CRPF jawan, dead and 52 injured, several of them seriously.
The ordeal began last evening when the two ultras emerged on Residency Road from the Hari Market side and one of them lobbed grenades at a meat shop while the other managed to gain entry into the Shiv temple.
Thereafter one ultra ran towards Raghunath Temple, taking advantage of the commotion and forced his way into the temple and positioned himself to challenge security personnel.
As the first operation ended, the security personnel came under heavy fire from the Shiv Mandir complex where the other ultra was holed up. Soon after the personnel rushed to the site and engaged the militant in a fierce gunbattle late last night.
The heavy cross-firing that ensued lasted for nearly five hours and ended around 7.15 am. The ultra tried to escape by attempting to break the security cordon and tried to run to nearby houses.
The DGP, Mr A.K. Suri, has confirmed that the attackers were LeT ultras and foreign nationals. Local media reports quoted him as saying that he received a telephone call late last night where an LeT activist said: "We have done it and now it's your turn."
Additional companies of the police and paramilitary forces had been deployed to enforce curfew restrictions which were imposed last night.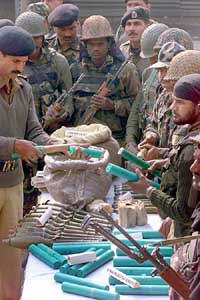 BSF soldiers display seized ammunition and explosives, at a camp in Panthachowk, on the outskirts of Srinagar on Monday. A BSF statement said troops had recovered the cache of munitions from a militant hideout during a search operation on Sunday evening in south Kashmir. — Reuters photo

No prayers were offered in the Raghunath and Shiv temples this morning. Only priests performed the customary rituals.

The entrance of Raghunath Temple was closed with a heavy security cover in front of the entrance. The marble floor of the temple had been damaged with explosions and a couple of idols too had been partially disfigured.

After breaking the cordon, the ultra sneaked into a house and spent nearly six hours there, firing at the security forces which retaliated, killing him.

As a result of curfew, work in government offices and banks was paralysed. The government had already ordered the closure of all educational institutions in the city.

Meanwhile, firing started near a hotel in the Panibakhtar area here today where the ultras were believed to be holed up, the police sources said.

They said some ultras opened several rounds of fire from a hotel around 8 am.

The security forces and the police have rushed to the spot and cordoned off the area.

A report from Srinagar said another militants' plan to target security force convoys on the highway and other vital installations in south Kashmir was foiled by the BSF when they seized RDX, rockets and other

arms and ammunition in Pulwama district last evening.

A huge cache of arms and ammunition belonging to the Jaish-e-Mohammad and the Hizb-ul Mujahideen was recovered during the operation.

The recovery included about 63 kg of RDX and other explosives, 10 rockets, 10 anti-tank rockets and 18 anti-tank rocket boosters.

Meanwhile, Pakistani troops resorted to mortar and artillery shelling in the northern sector of Jammu and Kashmir throughout the night, targeting civilian areas and defence installations in forward areas.

The sources said unprovoked firing was reported in the Keran, Karnah and Machil sectors in north Kashmir last evening.

Some of the shells landed in the civilian areas near the Line of Control without causing any damage.

Indian troops also retaliated. However, guns fell silent shortly before morning.

Three terrorists were shot dead by the security forces in a fierce encounter in the Banihal area of Doda district this evening.

A defence spokesman said acting on a tip-off that some ultras were hiding in the Banihal area, the security forces launched an operation to flush them out. As the personnel zeroed in on the ultras, the latter opened fire on them. In the ensuing gunbattle, three ultras were shot dead. UNI