Tuesday, November 26, 2002, Chandigarh, India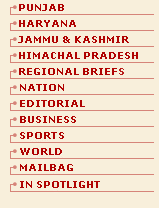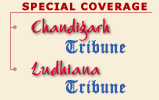 M A I N N E W S
Radical Sikh lauds Amarinder
Varinder Walia
Tribune News Service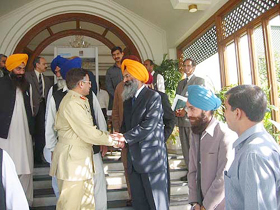 Pakistan President Pervez Musharaff shakes hands with Pritpal Singh, coordinator of the American Gurdwara Parbandhak Committee, after a meeting with various Sikh radical organisations at Islamabad on November 20.
— Photo Ravinder Singh Robin

Amritsar, November 25
Capt Amarinder Singh, Chief Minister, got support from unexpected quarters as a US-based radical Sikh leader, Dr Ganga Singh Dhillon, President Nankana Sahib Foundation (NSF), praised him for resigning from various posts for the sake of the Sikh Panth in the past.
Talking to TNS at Nankana Sahib (Pakistan), Dr Dhillon said Capt Amarinder Singh was a 'true maharaja' who knows the aspirations of the masses and had worked accordingly in the past. He said Capt Amarinder Singh had resigned as member of Parliament and from the primary membership of the Congress in protest against the Operation Bluestar in 1984, then resigned as an agricultural minister from the Barnala government in protest against the police entry into the SGPC complex. He said even during 'referendum' of the Kandukhera village in Ferozepore district, Capt Amarinder Singh had camped in the strategic village for many days and had saved Abohar and Fazilka from going to Haryana.
Meanwhile, Dr Dhillon said he would continue to fight for 'self-determination' of the Sikhs. He, however, criticised Mr Gurmit Singh Aulakh, president of the self-styled Council for Khalistan, for raising slogans of 'Khalistan' at gurdwara Nankana Sahib while speaking from there. "I won't allow the Sikh shrines to become centres of politics", he declared, on the demand for a separate Sikh state, Dr Dhillon said "every Sikh who participates in the ardas would definitely support this demand.
Dr Dhillon said Dr Jagjit Singh Chauhan had asked him to accompany him to India but he had refused to do so as he was not for 'sale'.
On former Chief Minister Mr Parkash Singh Badal, Dr Dhillon admitted he (Badal) was his good friend and that was why he was very much perturbed to learn that his ministry had surpassed all limits of corruption.