M A I N N E W S
Raghunath Temple reopens
Tribune News Service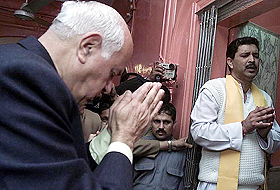 Former Jammu and Kashmir Chief Minister Farooq Abdullah offers prayers at Raghunath Temple which reopened on Wednesday following purification prayers. — Photo Amin War
Jammu, November 27
After three days the Raghunath Temple was reopened today.
The temple doors were thrown open to the devotees after performing " shudhi karan". The floor, damaged in the grenade explosion, and the walls scarred by gunshots, had been repaired with new marble tiles and painted.
The first prayer was held by 35 temple priests. A large number of devotees, who had lined in front of the entrance to the temple, were allowed in after thorough frisking. The temple authorities said three idols which were partially damaged during Sunday's shootout were yet to be repaired.
The VIPs present during the first prayer included former Chief Minister Farooq Abdullah, his son Omar Abdullah.
He said by releasing militants from detention the Government sent a wrong signal to the rebels. "Why we had kept them in prison cells", he asked, adding that they had to be kept in detention because "we know that they will create added law and order problem."
Dr Abdullah said that an the security and integrity of the state there should be no compromise. The government "cannot tackle militancy when the security forces feel demoralised under the new dispensation."
Dr Abdullah said he was not against dialogue with separatists.