ARTSCAPE
He turns stone into sculpted marvels
Garima Pant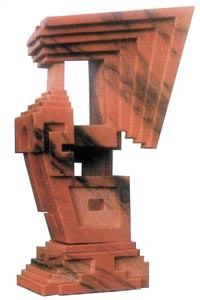 Lallan Singh's 'Geometrical Myth'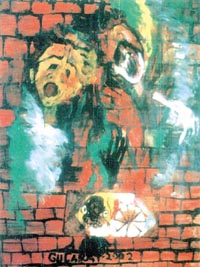 Rooma Mehra's 'Gujarat 2002', glass painting in oil.
An exhibition of sculptures by Lallan Singh, a freelance sculptor, is on at the Foyer gallery, Lalit Kala Academy, till December 2. Born in Allahabad, he works with various kinds of marble to add a new vision to his sculptured marvels.
One of his works, titled 'Family', is a series of tortoises in black marble and is a very natural and vivid description of nature on stone. He gets inspired by the present and is at the moment working on the subject "Architectural Myth" and "Geometrical Myth". For this subject he has been awarded the junior fellowship of the HRD Ministry. His initial series of 'Cactus'[ exhibits higher compassion.
He is the recipient of many awards and one of his rare collection and creation has been selected by the National Gallery of Modern Art, Mumbai. He has been an active participant in exhibitions and shows at the national level and has been awarded by many reputed institutions.
Patchwork and pedicure
'Oz Haat', an exhibition-cum-sale of the work of Indian community organisations supported by the Australian High Commission, was held the previous week. The exposition had stalls showcasing patchwork and embroideries from SEWA, Gujarat, and SCRIA, Rajasthan in addition to woven durries, brass and wood items, hand-embroidered soft furnishing and clothing, carpets, cards etc. Cultural performances, patchwork and embroidery demonstrations, mehendi, manicure and pedicure sessions were also part of the show. Food lovers also had an opportunity to sample both Australian as well as Indian culinary delights. 'Oz Haat' is an initiative under the Direst Aid Program (DAP) of the Australian High Commission which funds Indian community organisations in running grassroots development programmes traversing a range of areas such as education, health, income generation and the environment.
She writes poetry with paint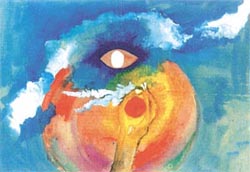 A multi-hued piece of the artist's mind.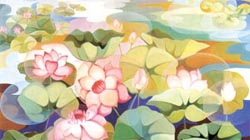 Senaka Senanayake catches the vibrancy of the tropical flora.
An exhibition of paintings and mixed media by artist Rooma Mehra is on at Lalit Kala Academy till December 2 at gallery 7. A poet, a writer, a freelance writer of human interest articles for many national dailies of India and a painter, she is truly a multi-faceted personality. She has been awarded Certificate of Honour by Skylark Poetry Academy, she is a life member of The Poetry Society, India, has been honoured as "Golden Poet" by the executive committee of the board of directors of the World Of Poetry, California, and so on. All these poetry accolades don't really mean that she has achieved less as an artist. She has to her credit numerous solo as well as group shows, the latest being with the Garhi Artists community for Kargil martyrs at Lalit Kala Academy galleries in 1999. She has participated in various prestigious international exhibitions also. Her paintings and sculptures are in individual collections in Switzerland, the USA, Denmark, Austria, Spain and Japan.
He paints happy pictures
The first major exhibition of Senaka Senanayaka's works, a renowned artist of Sri Lanka, will capture the art lovers' fancy at Visual Art Gallery from December 1 to 7. In his paintings he captures the vibrant hues, radiant moods and the vibrancy of the tropics. His works are immensely popular across the globe as in the present gloomy and dark scenario of life he paints a vibrant and happy picture of the world. His bubbling personality is very much evident in his arresting and captivating tropicscapes.
This famous artist and sculptor from Sri Lanka has done his BA(Hons) in fine arts from the Yale University, USA. Since his first exhibition in 1959 his paintings have been continually exhibited on invitation from recognised art institutions and he has held 99 one–man exhibitions in 18 countries. Places in which his works hang include the United Nations Building in New York, the White House, National Geographic Buildings,
Washington DC, the FAO headquarters, Rome, the International Post Office, Berne, the Lodge in Canberra, the National Panasonic Headquarters, Osaka, the Berlin State Museum, the Lidice Museum and in several art institutions and private collections abroad. In Sri Lanka his paintings adorn the new Parliament building, the President's house and many prominent public buildings. He owes his creative impulses to the Buddhist legend and traditions and to the rich and varied flora and fauna of his country, Sri Lanka. The Jaycee International awarded an Oscar as one of the 10 outstanding young people of the world to Senaka in 1983 for his contribution to advancement of art in his country and the world.